Reviews of By the Creators of Le Labo, Le Labo's New Fragrance Collection for Anthropologie
Le Labo and Anthropologie's Collaboration Smells Like Old Times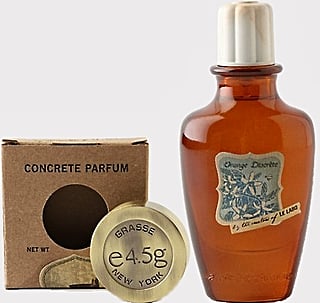 By the Creators of Le Labo, the brand's new collaboration with Anthropologie, is the very best kind of atavism. The solid Concrete Parfums ($28) are concealed inside pretty old-fashioned brass weights, and the Spray Parfums ($62) come in faux 18th century poison phials. All the scents in the collection have an antique aspect as well, and they smell old-money luxurious even though they're less costly than other fancy Le Labo brews. I tried all five fragrances, so to see how each rated, just keep reading.
Orange Discrete — This is a warm scent that smells almost exactly like an old-fashioned orange clove Christmas decoration. It starts out with a burst of orange peel, then develops a soft, spicy body redolent of cloves and cedar. Definitely a sweater weather perfume.
Chant De Bois — A nice, though not terribly exciting fragrance for women who like fresh, woodsy scents. Lots of cedar and bergamot with a leavening dose of grapefruit to keep things light and feminine, but none of the dirt that makes wearing woodsy or traditionally male scents sexy.
Belle Du Soir—Do you like iconic chypre fragrances like Guerlain's Mitsouko? Then you'll want to try this, which has musky, animal overtones that give it tons of retro sexy va-va-voom without the monster sillage that makes many older perfumes difficult to wear.
Poudre D'Orient— True to its name, this smells of soft, luxuriously scented talcum powder. (Think something a 16th century lady would have dusted on before a romantic assignation.) It's a little spicy, and it wears so close to the skin that no one but you will know you're wearing anything. Probably the most unique and compelling scent in the collection for me.
Bouquet Blanc — This may be my favorite of the bunch for everyday wear. It's a pretty jasmine floral with a light base of bergamot and vetiver instead of the creamy musk most florals use. Utterly romantic but not overtly sexy or fruity and childish like most jasmines on the market.