The Ritz-Carlton Half Moon Bay Spa Review
Tour of Beauty: The Ritz-Carlton Half Moon Bay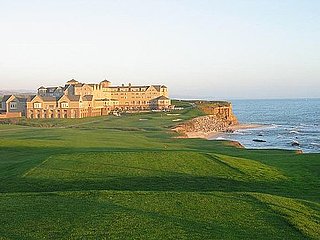 Perched on a bluff overlooking the Pacific Ocean, the Ritz-Carlton in Half Moon Bay, CA, has one of the Bay Area's best-kept beauty secrets. While most people know about the resort's dining offerings and golf courses, its spa facilities shouldn't be overlooked. I was recently invited to tour the spa and try a gratis treatment. To find out what a $245 massage is like, read more.
Hotel spas sometimes feel like an afterthought, but the Ritz-Carlton's is 16,000 square feet of luxury. Along with a yoga studio that overlooks the ocean, it boasts a hair and nail salon, three treatment rooms, and a tranquil meditation room. Steam rooms, whirlpools, and a Roman mineral bath provide places to relax before or after treatment. It's very calming, and the attention to detail is what you'd expect from a five-star hotel.
The spa menu includes all you'd imagine: facials, massages, waxing, and so on. I decided to try the 75-minute Ocean Mist Stones Massage ($245), which may be the most indulgent treatment I have ever experienced. First, the massage therapist buffed my body with a mimosa sugar scrub; that alone was enough to melt away the stress I'd been carrying around. After that, the therapist positioned a Vichy shower over me. (A Vichy shower is a movable metal arm with multiple shower heads — just like a regular shower, but instead of standing, you're lying on a table.) Then, the massage! While warm water continued to flow over my body, my therapist used mimosa oil and heated stones to transform me from a stiff, achy mess to the blissed-out mayor of Relaxed Town.
Obviously, this sort of luxurious treatment is an enormous splurge. But to quote that great philosopher Ferris Bueller, it is so choice. If you have the means, I highly recommend it.