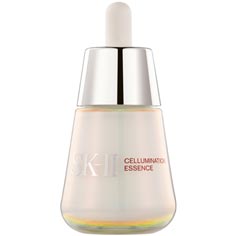 Good skin care doesn't have to be expensive. But sometimes it is. SK-II sent me a sample of its new serum Cellumination Essence ($150). Like the rest of the product line, it's infused with Pitera, an ingredient created through sake production. What's different is its Aura Bright Complex, a blend of antiaging and brightening ingredients that promise a lit-from-within glow. All of this sounds impressive, but is it worth $150?
Um, I think it might be.
To find out why, keep reading.
There's a cosmetic effect to Cellumination Essence; it imparts a soft sheen to skin immediately. There's no shimmer or shine, just a gentle and natural-looking glow that mimics the effect of perfect lighting. Real change takes more time, of course, so I was patient. My complexion was much brighter-looking after a week of twice-a-day use, but was I just imagining an improvement because I wanted to see one?
Then I went on vacation. Ever the minimalist packer, I left the SK-II at home. And, no joke, my skin soon looked a little less radiant — not worse, just not as dazzling. Upon returning, I went back to using Cellumination Essence. A month later, my skin has a bit more of the glow even when it is bare.
So in a sense, it's two products in one. You get the immediate gratification of brighter-looking skin, and over time, you actually have brighter-looking skin. Will I splurge on another bottle when this one runs out? We'll see, but the whole "looking like you have nearly perfect skin when you're not wearing foundation" thing might just tempt me.