Safety of Nanoparticles in Beauty Products
Despite Risks, Nanoparticle Products Are Still on the Shelves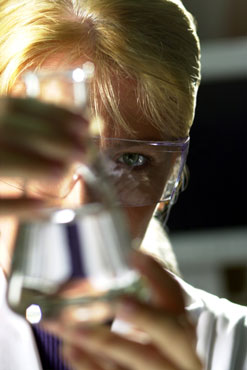 Nanoparticles, which are as minute as a billionth of a meter, are added to products to enhance other ingredients. While that might sound all fine and dandy, the problem is that these miniscule particles can settle deep within the skin, sticking around in the body for up to 40 days. Realizing the uncertainty of how this can affect the body, products containing nanoparticles have been pulled from Europe and Australia until further studies can be done. However, women in New Zealand are still able to buy them, prompting the Sustainability Council to take notice. To find out more, just keep reading.
Fullerenes, which are tiny particles used in products like antiaging creams and facial masks, are thought to be contained within some items from L'Oréal, The Body Shop, Max Factor, and Lancôme Paris. Even though cosmetic companies are required to report if their products contain nanomaterials, the problem is that the Environmental Risk Management Authority (Erma), a New Zealand group that works to protect the health and safety of the country, has not received any notice of such products.
There isn't enough information yet to fully access the possible hazards of nanos, and with no solid evidence to back up the claims just yet, solid rules have yet to be made. Nevertheless, the thought that they are potentially damaging is enough to have me thinking twice. What about you?