Sally Hansen's Salon Effects Review: One Week Later
Sally Hansen's Salon Effects Manicure Review: A Week Later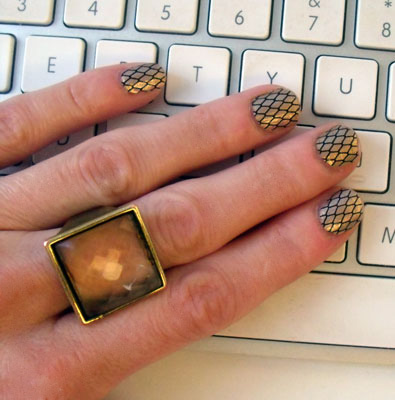 Last week, I was singing the praises of Sally Hansen's Salon Effects stick-on nails in Misbehave, a gold shade with a black fishnet stocking pattern. But, was I singing its praises after wearing them around for a week? As promised, find out how well they wore when you keep reading.







I'm a bit of a closet nail biter, but having nails that have been neatly manicured all week has prevented me from chomping away. I'm actually rather proud of the fact that my nails are slightly longer than they'd normally be, and quite shocked at how long they can get in just a little over seven days.
Thanks to the flashy (but not garish) design, I've gotten more compliments on my nails this week than I have in my entire life — from my dental hygienist to the guy that rings me out at Walgreens. Even though I had some regrowth at the base, slight chips, and hairline-style cracks on some of my nails (see the worst of it in the picture on the left), I still had people stopping me by day seven to ask where I got the manicure. And honestly, the flaws aren't all that bad or noticeable from afar. I'd have to guess that's in part due to the light color and pattern of the stick-ons, which likely are more forgiving than something darker or without a design.
I'm rough on my hands, and I've gone indoor rock climbing, cleaned my apartment, did multiple loads of laundry, and then some, but these puppies lasted a lot longer than a traditional manicure would. What can I say? I'm addicted. Watch this space for a video review, too.