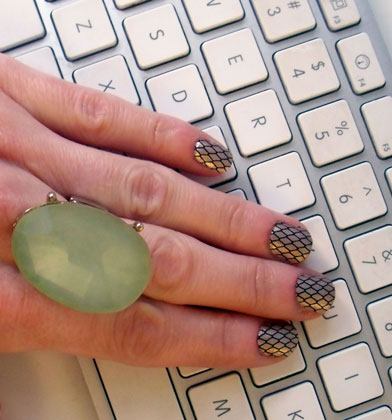 Sally Hansen recently launched Nail Effects, precut, stick-on nails in varying colors and patterns. But these aren't your ordinary hard and plasticy fake nails. Nope, these adhesives are thin and stretchy, molding to the shape of your natural nail. And after admiring the eye-catching Misbehaved pattern ($9) on a DailyCandy writer, I knew I had to give them a try.
At around $9 a pop, depending where you get them, these temporary nail designs aren't exactly cheap. They're supposed to last for up to 10 days, so check back later for my report on the eventual wear and tear. But after having them on for just a few hours, I'm surprised at just how pretty a gold-and-black fishnet-stocking manicure can be. See what else I thought when you read more.
While it takes a few moments to get the hang of applying, once I did, I was impressed with just how easy they are to put on. I particularly love the fact that there's no drying time, and that they don't feel heavy or sticky on the nail bed. The only downfall is that on just a few nails, it was really difficult to get the stickers to completely cover each nail, but it doesn't really matter unless anyone is looking closely (or even cares). Also, I'd recommend going with a pattern or a textured design in lieu of a solid color, which might look a bit too fake and ridged, as Bella editor Annie experienced.
But for the fun factor (I have my eyes on those denim ones next) and relative ease of application, I'd say Salon Effects will be making it into my regular polish rotation.