Scotch Naturals Nail Polish Review
We Try Nontoxic Nail Polish. Is It Any Good?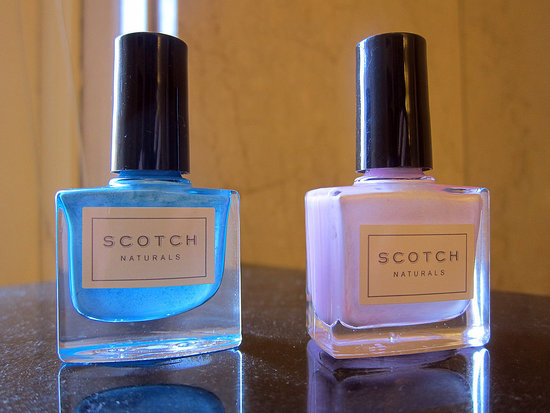 The other day, my beau and I walked past a neighborhood nail salon. Even with its door closed, we could smell the fumes emanating from the storefront. "Breathing that in all day can't be healthy," he mused. That sentiment is right in line with the philosophy of Scotch Naturals, a line of nontoxic nail polishes. The water-based formula is free of toluene, dibutyl phthalate, formaldehyde, acetone, and other much-maligned ingredients; it earns an excellent safety rating by the Environmental Working Group. That's all well and good, but how does it work? Keep reading for pictures and a full review.
Scotch Naturals offers 13 colors ($15 each) that range from crimson to putty to a muted army green. (Sister company Hopscotch Kids offers wilder, wackier shades if you're so inclined.) I tried Whisper, a pale pink, and Loch Ness Mystery, an opaque deep turquoise. Both colors were slightly marbled in their bottles, which Scotch Naturals explains is normal. After turning the bottles upside down and rolling them in my hands, the color was even. The polish consistency is on the thin side, but it went on evenly. Here's what it looked like after one coat.
Loch Ness Monster went on impressively opaque in just one coat, but Whisper was fairly sheer. Here's the second coat. (Don't judge my two-minute manicure skills!) Again, Loch Ness Monster was solid. Whisper still showed brush marks on the second coat, and only on a third coat did the color look streak-free and opaque.

Here's what I love about this polish:
There's no odor whatsoever. Even when I was touching up the manicure at my desk, nobody else in the office noticed.
The color choices range from neutral to trendy, so there's something for everybody.
The polish dries quickly. (More on this below.)
The formula is designed to be nontoxic, so I don't think twice about using it.
Here's what isn't as great: Although the polish dries quickly, it doesn't really "set" for hours. Scotch Naturals recommends using the polish before bed, which allows it time to dry overnight. In the hours after painting these fingernails, I got a few dings in the polish even after it was no longer wet. So while the polish does dry quickly, it's more prone to imperfections than, say, Revlon. This is the trade-off for a nontoxic formula, and while it isn't a deal-breaker for me, antsy types may need to practice their patience.