Seed Grows a Green Body Care Idea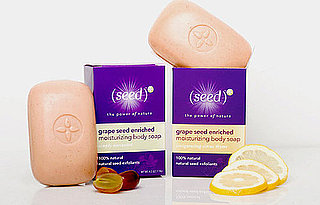 One of the frustrating things about some eco-friendly products is the often-high price. Yes, we'd all love to go green, but it's difficult to pay $20 for body lotion when Curel can be had for a small fraction of that cost.
Enter Seed, a new line of natural body care that's free of parabens, preservatives, phthalates, artificial colors, and animal ingredients. (Whew.) The three-item lineup — body lotion, body soaps, and shampoo bar — uses grape seed oil and extract to deliver antioxidants to skin. The seed theme goes further with the body bar, which incorporates seeds from fruits such as pomegranate, strawberry, and apricot to gently exfoliate. The body lotion is moisturizing but not at all greasy, making it a good eco-friendly option for dry skin. Best of all, Seed comes at a reasonable price — about $20 for a pack of three lotions or six-pack of soaps.