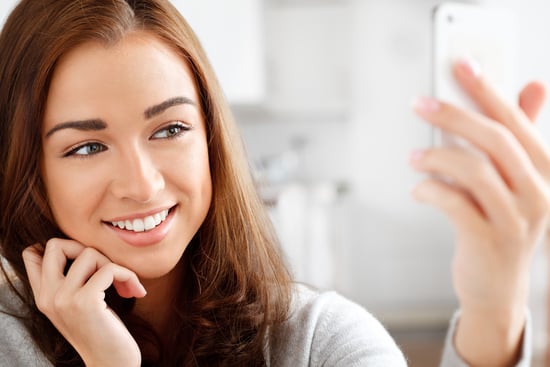 Alexis Wolfer, author of the popular blog The Beauty Bean, is partnering with POPSUGAR Beauty to bring you her favorite trends, beauty tips, and how-tos in a series of nine posts.

For all the social-media-aholics out there (myself included!), whether you're an outfit of the day blogger or just someone who likes to take a snapshot of yourself rocking the latest trends, you know how important it is to take the perfect selfie. From the angle, to the lighting and – of course! – to the filter, you know how to ensure you look your best for all your #COVERmoments.
But why not up the ante and add red carpet glam to your next selfie? Whether you take inspiration from your favorite celebrities on the red carpet or the runway trends, here are three ways to take your favored makeup looks from runway to real-way, easily.
Love a striking red lip but want to make it more wearable? Look for a red tinted lip balm that will not only give you the pop of color you so desire (without the punch of a matte red lip) but will also help to hydrate your lips too.
Pine for a perfect nude lip but unsure how to pull it off? Exfoliate your lips with a dry toothbrush or a bit of sugar the night before and slather on lip balm before bed to ensure your lips are flake-free come morning. (Nude lips have a way of making even barely chapped lips look like they're Sahara bound!) Then, apply your usual foundation (which will always be the best nude lip hue for you!) over your lips and pat excess off with a tissue. Finish with clear gloss for a high-shine nude, or leave it as is for a more striking matte finish.
Crave a daring blue eye but want to steer clear of looking like an extra in an '80s movie? Stick with blue eyeliner instead! Want to go super-subtle? Apply blue eyeliner to your lower lash line and blend your usual black eyeliner into it as much or as little as you like. Ready to go all out? Apply blue eyeliner to your upper lash line and smudge it out for a boldly blue smoky eye.
Which will you try for your next #COVERmoment?