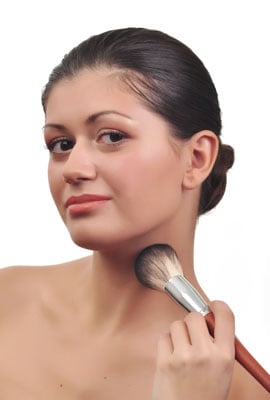 Recently, a reader wrote in asking the following question:
I've always had a problem finding foundation. My real problem is that my face is a different color than my neck. My neck is very pale and my face is a little darker and redder. When I match foundation to my neck I look ghostly white, but if I match it to my face I have to put a bunch on my neck so I don't have a foundation mask. Do you have any tips?
Ah, a question for the ages. No matter what your skin color, picking the right shade and finish is no simple feat. For most of us, our necks and faces don't seem to be uniform. (And most of us don't particularly care to wear foundation on our necks in the first place.) Get tips on how to make foundation work for both your neck and face when you read more.


The selection: Most makeup artists will tell you to match your foundation to your neck for the most natural look. Start off with a foundation test. First swipe on three different shades (a light, medium, and dark one for comparison) from the top of the jawline down to the neck. The one that disappears into the skin and matches the neck most closely is the one for you. Note: It may take several tries to achieve the perfect balance.
What to avoid: Stay away from foundations that are too pink. They almost always look unnatural and masklike, calling attention to the fact that your neck and face are not the same shade. Instead, find a foundation with a yellowish undertone which will help to balance out any redness in the face.
Pulling it all together: Remember, the point of foundation is to even out the skin's tone, not to create an opaque veil of mismatched color. Most people need less product than they think they do, so try a sheer foundation or tinted moisturizer instead. You can also dilute your base with a wet sponge, stippling lightly onto the face. If you find that your foundation is just a tad too light, brighten up with some bronzer and blush. A touch of bronzing powder on the neck and chest can also help to bring it all together.