Silk'n Sens Epil User Review
My Silk'n SensEpil Hair Removal Adventures: Week 1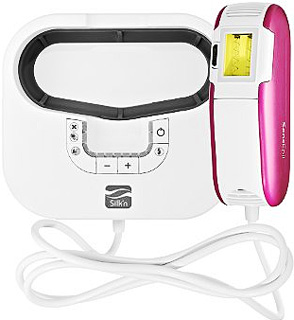 In case you didn't catch it, on Monday I told you I was about to start using the Silk'n SensEpil ($499) to, with any luck, permanently depilate myself. Last night, I went ahead and zapped my underarms and bikini line for the first time. The experience was different than using Tria's laser, in-office laser hair removal, or the No!No!, so to find out what an Epil session is like, just keep reading.
First of all, I have to say that compared to the other hair removal methods I've tried, the SensEpil is the fastest. The applicator head is just so much bigger than other units that it takes very little time to do your whole area — about 10 minutes. It also didn't hurt at all, and I didn't have any skin redness. Granted, I zapped myself at the lowest power level, so we'll have to see what it's like as I scale up.
However, the SensEpil has its drawbacks. The unit is pretty big and has to be plugged in at all times. Therefore, it's not exactly portable, and as I mentioned earlier, it doesn't work on light hair or darker skin. The weirdest thing, though, is what happens when you're actually operating it.
You switch it on, it hums a little, you get a green light telling you that it's ready, and then you press it to your skin. Suddenly, there's a blinding flash of light. It was so bright that Mr. Bella could see it coming from under the bathroom door, causing him to ask, "You conducting nuclear testing in there, Belles?" The unit does it every time you use it, so I got flashed about 20 times in the course of depilating. Afterward, I felt like I had an idea of what it's like for celebrities getting swarmed by paparazzi on the red carpet, as I kept seeing little spots.
I started closing my eyes before I zapped about halfway through, but it didn't totally fix the problem. (For my next treatment, I'm considering wearing my darkest sunglasses, à la Lady Gaga.) I haven't seen any hair reduction yet, but it can take up to two weeks to see results, so I'll write again then. Stay tuned!