Silkn SensEpil Review
Testing the Silkn Hair Removal Device: Success!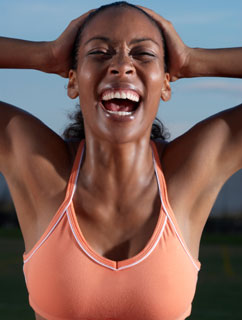 If you've been following my recent adventures in at-home hair removal with the Silkn SensEpil ($499), then you know I've been using the device for approximately six weeks now. I just did my fourth round of zapping, and I have big news: I'm actually seeing results. My first two treatments didn't do anything, but my last two definitely have slowed my hair growth significantly. To get those results, though, I had to make adjustments to the way I used the machine, and had to troubleshoot a couple of operational issues. So to hear more about it, just keep reading.
On my skin, it turns out the machine seems to be ineffective at anything but the highest level. I was initially afraid to crank it up all the way, but I only started seeing results once I did. Also, I don't find the highest level to be any more painful than any of the others, so for me at least, all the other settings are basically useless. However, I'm definitely seeing much slower hair growth. I had some hair just fall out, and since I used the highest level for the first time two weeks ago, I've only needed to shave twice, which is pretty impressive.
I don't yet know how permanent the removal is, so we'll have to see whether growth keeps slowing down over the next couple months. A word of warning about using the highest level: It shorts out the machine sometimes. If I zap for more than a few minutes, the system warning indicator light comes on and the whole unit shuts down. After that, I have to give it a couple hours to cool off before I try again. So if you're planning to do your legs or another large area on high power, you might want to plan on spacing them out. I like the machine, but I'm kind of worried about it blowing a fuse, so I'll report back about any new developments in a couple weeks.