Silk'n SensEpil User Review
Let's Take a Second Look at This Hair-Removal Device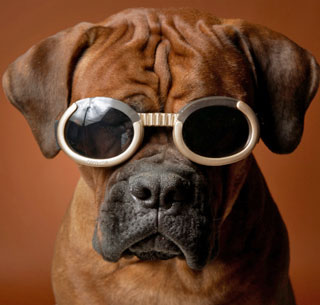 A couple weeks back, I tried the hair removal gadget Silk'n SensEpil for the first time. It was fast, it was easy, it was blindingly bright. So over the weekend, I threw on my sunglasses just like the brave canine in the picture, cranked the zapper up a notch, and did my second session. I'm gonna make this report short but sweet. To see how it went, just keep reading.
This time around, I took the SensEpil up to level three, since I'd had no redness or bad reaction and also hadn't seen any hair reduction. Level three was completely comfortable for me, even along my bikini line. It was only a little warmer than the first level, and the process for removal was just as easy and quick as it had been before.
As far as having the hair fall out, or even seeing a reduction in its growth speed, though, I've got zilch. The instructions warned that it could take up to two weeks to see hair begin to fall out, but I waited the full 14 days in between treatments and saw no results. In fact, my hair was still growing like gangbusters even though I have extremely fair skin and dark brown underarm/bikini hair, which should make me an excellent candidate for removal.
I'm not assuming this is the SensEpil's fault, though. The instructions also say that if you start your sessions in the wrong phase of hair growth, you may have to wait until the next phase starts to see results. So maybe my hair isn't at a place where it can be zapped effectively just yet. Also, it's only been two sessions, and it should take me about 10 to see full results. I'm giving the zapper at least a couple more sessions at full power before I cry foul.
Also, putting on the sunglasses was a good idea and made my experience a whole lot more pleasant — the SensEpil should come with a pair, I think. I'll let you know if/when I start seeing results and whether the full-strength zap is as painless as the other levels.