Sophy Robson's Picks For New 2010 Fall Nail Polish Colors and Textures
A Top Fashion Manicurist Shares the Fall Nail Trends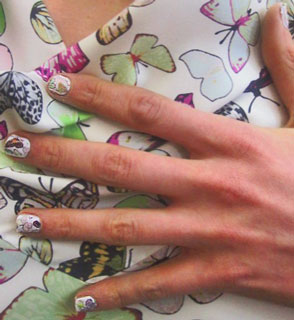 Nail artist extraordinaire Sophy Robson had a whirlwind September, jetting to Fashion Weeks across the globe. There, she created nails for Louis Vuitton, Loewe (whose butterfly nails are at right), Topshop, Stella McCartney, and Vivienne Westwood, among others. In other words, this lady is the one creating the looks we'll all be wearing in a few months' time. Sophy chatted about Fall's hottest trends, so to see what the ultimate nail insider has to say about getting fashionable digits, just keep reading.
BellaSugar: What shades do you foresee dominating the nail color palette this autumn?
Sophy Robson: Definitely warm, rich, earthy shades like khaki and deep, purpley reds. There are also lots of interesting metallics coming out which have two-tone effects.
BS: What's a simple way to add trendy textural elements to a manicure?
SR:There are some amazing holographic glitters which look really dramatic and glamourous with a glossy top coat.
BS: What's your favorite manicure look right now?
SR: I love mid-length oval nails with a high gloss finish, but I also have a soft spot for the fantasy 3D nail art coming out of Japan. Some of it is mind-blowing! I started another blog on Tumblr called So So Fly for that kind of nail art.
BS: Would you rather see nails short or long this season?
SR: Long. I think models are actually making more of an effort to grow their nails long these days so they don't have to have fake ones, which obviously makes my life so much easier!
BS: What/who were you most excited to see at Fashion Week?
SR: I loved seeing Marc Jacobs, as he is so inspiring as a person, and the Louis Vuitton show is like the climax of the season for me. Also, all my lovely model friends like Alessandra Ambrosio and Ana Beatriz, Hannah Holman, Dree Hemingway, Eliza Cummings, Cameron Russell, Karolina Kurkova, Freja Beha, etc. I also got to meet [Vogue Nippon editor at large] Anna Dello Russo and did her nails for Ungaro this season, and she was awesome.
Photo courtesy Sophy Robson