Spray Tan Review
In Which YumSugar Gets a Spray Tan in the Buff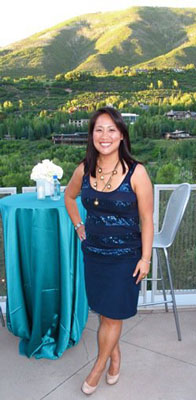 Earlier this month, YumSugar had a big event coming up, the Food & Wine Classic in Aspen. She wanted a healthy glow for the days-long festivities but didn't want to expose her skin to UV rays. (Smart cookie.)
Enter the spray tan. Yum decided to try Brown Sugar Boutique in SF. While this faux-tanning service can be performed by a machine, our foodie wanted the preciseness that only a human can provide. And while Yum decided to go in her birthday suit, most places provide paper underwear or let you wear your own skivvies. Find out about her experience with spray tanning when you read more.
BellaSugar: How did you feel about getting naked in front of the spray tan person?
YumSugar: A friend advised me to get naked even though you can still leave your undergarments on. I went in with that mentality and wasn't nervous. If you are shy about getting naked in front of other people, it might be awkward for you, but she [the spray tan technician] did a good job of making me feel comfortable.
BellaSugar: How long did the process take? And if you don't mind me asking, how much did it cost?
YS: It was about 20 minutes plus drying time, and cost $50 plus tip.
BellaSugar: You didn't tan your face. What was the reasoning behind that?
YS: First, my face was already dark enough because I run outside. Second, I felt it was the riskiest area to mess up. If there were blotches, they would have been glaringly obvious on my face. Third, I didn't want to have to change my makeup colors for just a short amount of time. I used bronzer instead.
BellaSugar: How did your tan turn out?
YS: I really liked the color. I was a little disappointed about one thing. I wanted to get some of my previous tan lines evened out, but still ended up with a bit of tan lines showing. If I could do it again, I would have asked her to go back over it. Also, in areas where something like my watch or sports bra rubbed up against my skin, I experienced some fading.
BellaSugar: How long has your tan lasted?
YS: They say it will last about seven to 10 days, but in reality, it was a solid two weeks.
BellaSugar: Would you do spray tanning again?
YS: I would do it for special occasions, especially ones with multiple events surrounding it, like weddings. Also, next time, I wouldn't mind doing my face.