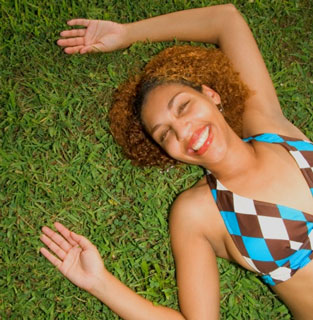 Spring is the time to bring out your best and brightest colors, but finding shades that work can be challenging. To help simplify the process, I've put together some shades specifically designed to play up warm, medium-to-dark skin tones. To find out how you can get the season's prettiest brights for you, and see examples of shades that will look great with your skin tone, just keep reading.
Remember that colors on skin are more sheer than they are in their compact, bottle, or tube. So don't shy away from bold shades because you think they'll stand out too much. Most of the time, they'll go on much more softly than they look.
Since you have warm undertones, keep your colors warm as well. Corals, Turkish reds, Indian pinks, sunny oranges, and yellow-inflected turquoises will all bring out your skin's natural glow.
If you're worried about bright color looking harsh, pick more sheer textures, like a tinted lip gloss, lip stain, cream blush, and loose eye shadow. That way, you can layer the color to the opacity to want, but still get a fresh, vibrant look.
Check out the widget below for flattering swatches and shade options that are trendy and great for the season!