Stila One Step Makeup Review
Stila and Philosophy Whip Up New Paraben-Free Foundations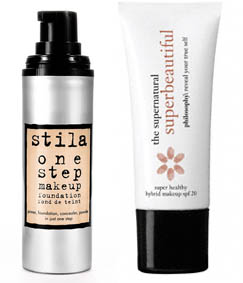 For many women, parabens is becoming a four-letter word. Used as preservatives, parabens have come under fire for a possible link to health problems. While many cosmetic companies and chemists assure consumers that parabens are safe, some brands are adding paraben-free products into their lineup. The latest to introduce paraben-free foundations: Stila and Philosophy. I've been wearing both (no, not at the same time) for the past few weeks. So to get my thoughts, read more.
First up is Stila One Step Makeup ($44), a multitasking whipped foundation that promises to do the job of a primer, foundation, concealer, and powder. I wouldn't say it goes that far (separate concealer remains a must for my under-eye circles) but it does create a natural-looking matte finish that works well on oily skin. I'd take a pass if you have dry skin, though, because it accentuates the parched patches on my cheeks.
As for Philosophy The Supernatural Superbeautiful makeup ($30)? It's halfway between a tinted moisturizer and a regular foundation, offering SPF 20 with light coverage. Like Stila One Step, it's better for oily complexions than dry ones. A well-moisturized face is a must with Superbeautiful, because it doesn't blend very easily. But, if those aren't deal-breakers, you might like the simplicity and sheerness of this makeup. I like to use this on "good face days" when I want something light and natural-looking.
Overall thoughts? They're good foundations, but not omg-I'm-in-love great. If you're dedicated to using paraben-free foundations and you have oily skin, these might be right up your alley. If you have dry or combination skin, or if you need more than light coverage, you may be disappointed.