Strange Invisible Perfumes Wine Perfume
Now You Can Smell Like a Wino — Without the Booze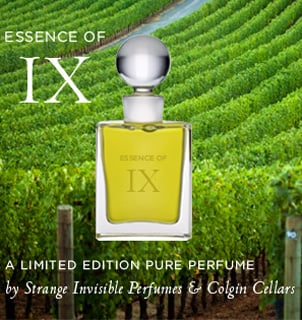 If you're the sort of oenophile who doesn't mind dropping $300 for a bottle of good wine, then Strange Invisible Perfumes' latest scent endeavor is going to make you very happy. The fragrance, which was created in collaboration with California's Colgin Cellars winery, is called Essence of IX ($320), after the vineyard's famed ninth estate.
Given its price, it's good that the partnership produced a thoroughly singular scent. IX opens smelling exactly like a Napa wine cellar on a rainy day: full of resinous, oaky must, then progressing quickly to a sage and bergamot botanical musk with a touch of rose inflected at the edges. The entire scent is pretty close to the skin, but the body and dry down particularly so, with loads of lavender and woody notes for a soft finish.
Wearing it really does feel like taking a winery tour on a March afternoon right before a rainstorm, which is a testament to SIP's ability to capture and relay scent memories. Next, I vote they re-create San Francisco's Conservatory of Flowers in a fragrance — I'd be on that one no matter the price.