Stress Causes Acne, Hair Loss, Graying
5 More Reasons Stress Can Mess With Beauty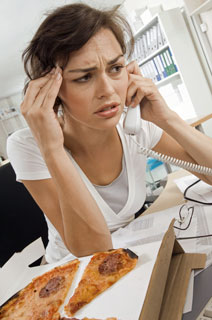 Stress is a miserable thing regardless, but a growing body of health and medical research is making it clear that its adverse effects are wide-ranging and even more insidious than previously believed. And if poor health isn't bad enough, I've got five reasons that, at least for the sake of our health and beauty, we should all learn healthy coping strategies. To find out more, just keep reading.
Hair loss — Yup, the Mayo Clinic says that stress can make your hair fall out. If you're under emotional or physical stress, some of your hair may temporarily fall out, although it'll grow back when your life goes back to normal. If you're under extreme, chronic stress, though, it can result in bald patches and — in extreme cases — whole body baldness. If your stress levels lower, the hair will grow back, but if you remain stressed, the hair loss can re-trigger and you'll keep having issues until you're less incredibly stressed out.
Gray hair — Sure, it's having a fashionable moment, but you probably don't want to go gray before you're ready to be a silver fox. Evidence suggests that stress hormones interfere with your body's melanin-delivery signals, thereby producing less color-rich (and more gray) hair.
Acne — Stress has been definitively linked to acne flare-ups. It's a vicious cycle, too, because acne stresses you out, which only causes more acne.
Rashes — People who turn red or blush when they're embarrassed are common, but did you know that some people also break out in redness and rashes when stressed? It happens, and it can affect anyone.
Brittle or peeling nails — Even your nails react badly to stress, and when you're having a hard time, you may notice more breaks and chips than usual.