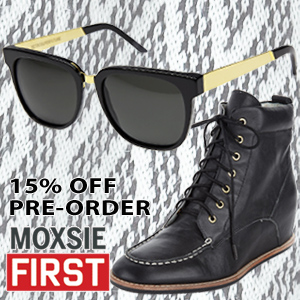 Finally, a members-only shopping site that doesn't sell last season's leftovers! MOXSIE FIRST sees Fall as an opportunity to layer and accessorize. With MOXSIE FIRST's preview sales, you call dibs on the most important statement pieces before the leaves start changing.
Here's to staying warm during brisk Autumns without sacrificing style, from head to toe:
Super sunnies are good enough for Sienna Miller, so why shouldn't they be good enough for you? Super's spruced up its classic retro designs with new neutral colors and a little bling.
The knitwear revolution will not be televised. De*Nada Designs presents geometric graphics, woven ropes, drapey cowls, and noncorny circle scarves. Not like Grandma used to make.
Matiko Footwear has all the Fall shoe trends on lock: laces, studs, boots. Get your grunge on for day and in the evening rock comfortable knee-high boots that were truly made for walking.