Summer Beauty Recipes
Convert Your Fourth of July Leftovers Into Beauty Recipes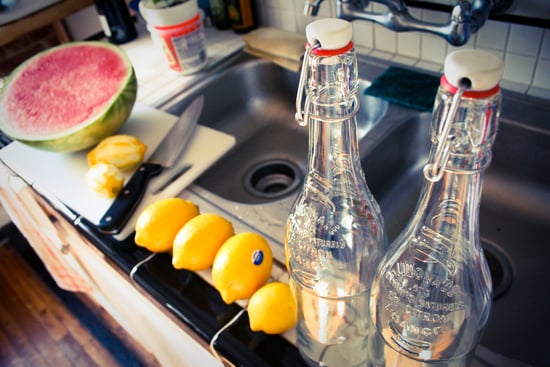 Summer and barbecues go hand in hand, but before you discard those Fourth of July leftovers, find out how you can repurpose them into DIY skin and hair recipes. Lemons and watermelon are all essentials for a backyard party this season, and they also happen to be great for your complexion. The same applies for ingredients you use to make savory sauces and rubs, too. So get to multipurposing, and see all the recipes after the jump.
Watermelon: If there was a nationally recognized fruit of Summer, then watermelon would be the winner. Made up of over 90 percent water, skin-refreshing watermelon boasts healing and shine-quelling properties thanks to the lycopene and malic acid contained within. To make a cooling astringent with the fruit, mash and strain the pulp of a watermelon until you get two tablespoons of juice. Add a tablespoon of vodka, two tablespoons of witch hazel, and two tablespoons of water.
Honey: The sticky stuff that often flavors barbecue sauce can be a great solution to postparty sunburn. Mix honey — which happens to be an antibacterial agent — aloe vera, and coconut oil for a salve that will ease the ache and redness of a bad burn.
Vinegar: Apple cider vinegar has many uses for hair or skin, but it's most often found in the kitchen before a Summer barbecue for marinating the meat. Mix up a hair spritz with 1/4 cup vinegar, 1/2 cup water, a dash of honey, and your favorite essential oil. Rinse hair with this concoction after shampooing for shinier hair. The vinegar helps to break down all the product buildup leaving strands cleaner than ever, but the honey makes sure you don't lose any moisture. Note: if you have chemically treated, colored, or highlighted hair, do a strand test on an inconspicuous area first to check for colorfastness.
Brown sugar: Brown sugar is yet another must-have ingredient for barbecue sauce and rubs. You've probably already tried your hand at a brown-sugar body scrub, but sandal season calls for a foot-specific recipe. Mix one cup of brown sugar, 1/2 cup of olive oil, and the juice of one lemon (make sure to mix the oil and sugar first so that the lemon doesn't dissolve the sugar). Then, scrub feet thoroughly and rinse.
Lemon: What is a Summer soiree without lemonade? The citrus in lemons makes them a great exfoliant and brightener. Make up your own skin-illuminating face mask by combining lemon juice, one cup of yogurt, and one tablespoon of honey in a glass bowl. Let sit for about five minutes, and wash away.