POPSUGAR
/ sponsored by /
Sally Beauty
Summer Hair Care Tips For Curly Hair
5 Summer Hair Care Tips For Curly Hair, According to a Pro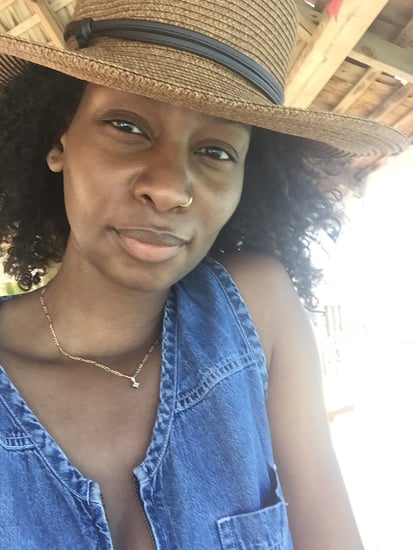 Summer is the perfect time for kicking back, letting your curls flow, and having some much-needed fun. That might involve hitting a rooftop with friends on a sunny Saturday afternoon or enjoying a nice drive up the coast with the top back, wind in your hair, and music blasting. Regardless of how you choose to indulge this Summer, hair protection is an absolute must.
As a cosmetologist, I've seen the damage Summer weather can play on curly strands and it's not pretty . . . literally. I've seen beautiful, colorful curls fade into nothingness when environmental elements are at their peak. If you don't normally adjust your style routine when the climate changes, I suggest doing so to avoid parched, faded, and havoc-ridden hair.
Here are a few tips that'll solve some of your Summer hair woes, from a curly-haired pro.
1. Cover Up
Wearing a hat is the quickest and simplest way to protect your hair (and scalp) from sun rays. This is especially important if you know you'll be outside for a lengthy period of time. Pro tip: I personally wear a wide-brimmed straw hat because it's comfortable, stylish, and easy to adjust.
2. More Water Please
This might seem counterintuitive, but it's important to soak your hair in clean water before you have a dip in the pool. Curly hair is porous, so once it's completely saturated with moisture its harder for chlorine to penetrate into the hair shaft, thus protecting your strands from damage. Your hair shouldn't have to suffer just because you like to swim.
Pro tip: Try to swim in an outdoor pool. They allow the chemicals from the pool to evaporate into the air, leaving your skin and hair less tainted.
3. Apply Leave-In Conditioner
If you're a beach bum like me, I highly recommend applying a sulfate-free leave-in conditioner before taking a dip in the ocean. The leave-in will help curls absorb the moisture more and salt water/UV rays less. Curly hair is naturally dry anyway, so the more moisture it gets, the better.
Pro tip: Opt for a cream base leave-in as it has reparative properties that'll strengthen hair over time.
4. Deep Condition
My everyday Summer 'do is a free-flowing wash and go, which means my hair gets more attention from the sun than I'd like. Because of that, I make sure to deep condition my hair one to two times a week to restore moisture loss and maintain elasticity due to the humidity. Deep conditioning will improve the overall appearance of your hair, increase softness, reduce breakage, minimize flyaways, and improve manageability.
Pro tip: To maximize hydration, apply a heat cap (shower cap) or sit under a dryer to allow for deeper absorption.
5. Seal It
Fight everything from frizz to fading by sealing cuticles with a cool water rinse. By sealing strands with cool water, you're preventing dirt from entering and accumulating onto the scalp, as well as securing the moisture from the conditioner that you applied to your hair. More moisture means less frizz.
Pro tip: You don't have to shiver in the shower to achieve frizz-free curls. Once you're ready to rinse out the conditioner, turn the dial to cool and run it over your hair for a final rinse.
Image Source: Shani Hillian