Summer Hairstyles With Bangs
Beat the Frustration of Summer Bangs With One Simple Style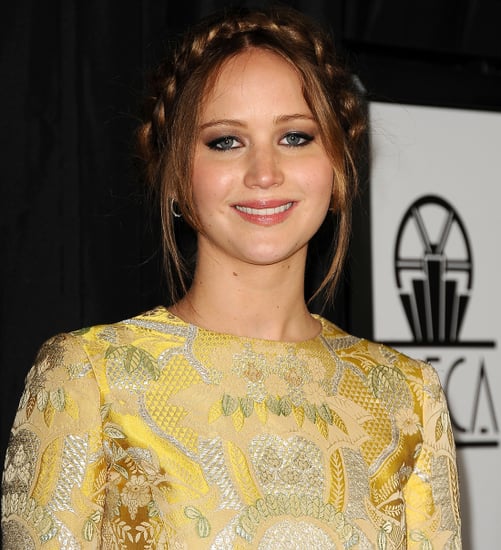 Are those bangs you cut in March ruining your style by sticking straight to your forehead? Celebrity hairstylist Mark Townsend, who is the man behind the locks of Jennifer Lawrence, understands your pain. "This is the worst time to have bangs," Townsend says. "The thing that is so hard to fight isn't humidity; it's just literally sweat. Because it's so hot and you start to sweat, and usually the hairline is the first to go."
But it is possible to fix the problem without kinking up your bangs. Townsend discovered an easy way while playing around with Jennifer's hair. "For a minute, Jennifer wanted to grow her bangs out. But when we cut her hair off, she wanted them back," he said. "So for a while we were doing bangs split down the middle. But one night, I did a braid on her that hid all of her bangs . . . I didn't even pin them back!"
Learn how to get this easy look when you keep reading.
Townsend achieved the incognito bang style by positioning Jennifer's braids to cover her bangs. "If your hair is long enough, do two braids on the side of your head and then flip them over your crown," he advises. While your laying the bangs down, sweep your bangs under them so the plaits lie on top. "Then, when you're pinning the braid to secure it, just pin the bangs into the milkmaid braid."
This genius style allows your bangs to stay in their natural state, that is, swept off to the side. Since you don't have to pull them back, you avoid any crimping or denting. That means less styling once the braids come down, which is always a good thing. So kiss your frustration, and your slick forehead, goodbye!