Sunblocks to Wear Under Makeup
2 Sunblocks That Wear Perfectly Under Makeup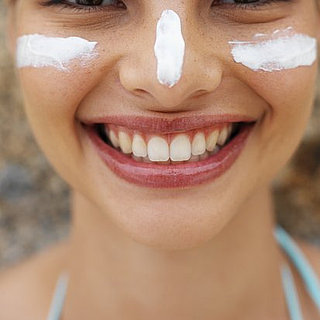 You've heard it before, but it's worth repeating: wearing sunblock every day is the best investment you can make in the future health of your skin. In doing so, you'll prevent photoaging — think sun spots, uneven pigmentation, and fine lines — and help protect your skin from cancer-causing UV rays.
I am a freak when it comes to SPF. Unless it's dark outside, it's on my face. Always. So it's important for me to find a non-greasy formula that doesn't pill or leave white streaks. Moreover, I want to be able to wear foundation if necessary, so the right sunblock needs to sink into skin. Finding something that fits the bill is a bigger challenge than you might think, but I tracked down two that do the job. For the scoop, keep reading.
For hippie ethics with a dose of glamour, check out Berkeley-based Marie Veronique Organics' Moisturizing Face Screen ($40). The antioxidant-rich formula provides broad-spectrum SPF 30 protection and is free of parabens, nanoparticles, fragrance, and petroleum products. It sinks into skin quickly and feels weightless — perfect for wearing alone or under foundation. There's a tinted version, too, but it is too orangey for my complexion. Go for the untinted version and you'll be in good shape.
Whereas Marie Veronique Organics uses zinc oxide to physically block rays, Neutrogena's Ultra Sheer Liquid ($12.99) uses chemical ingredients to protect skin. The broad-spectrum liquid disappears into skin immediately and has a light, pleasant scent. It's available in SPF 55 and SPF 70, which should please heliophobes. If you like La Roche-Posay Anthelios Lait like I do, but you don't love its high cost, this one feels very similar for a fraction of the price.
Source: Flickr User Earthly Delights