Sunday Riley Tidal Brightening Enzyme Water Cream Review
Why I Believe This Is the Best Face Moisturizer in the World
As POPSUGAR editors, we independently select and write about stuff we love and think you'll like too. If you buy a product we have recommended, we may receive affiliate commission, which in turn supports our work.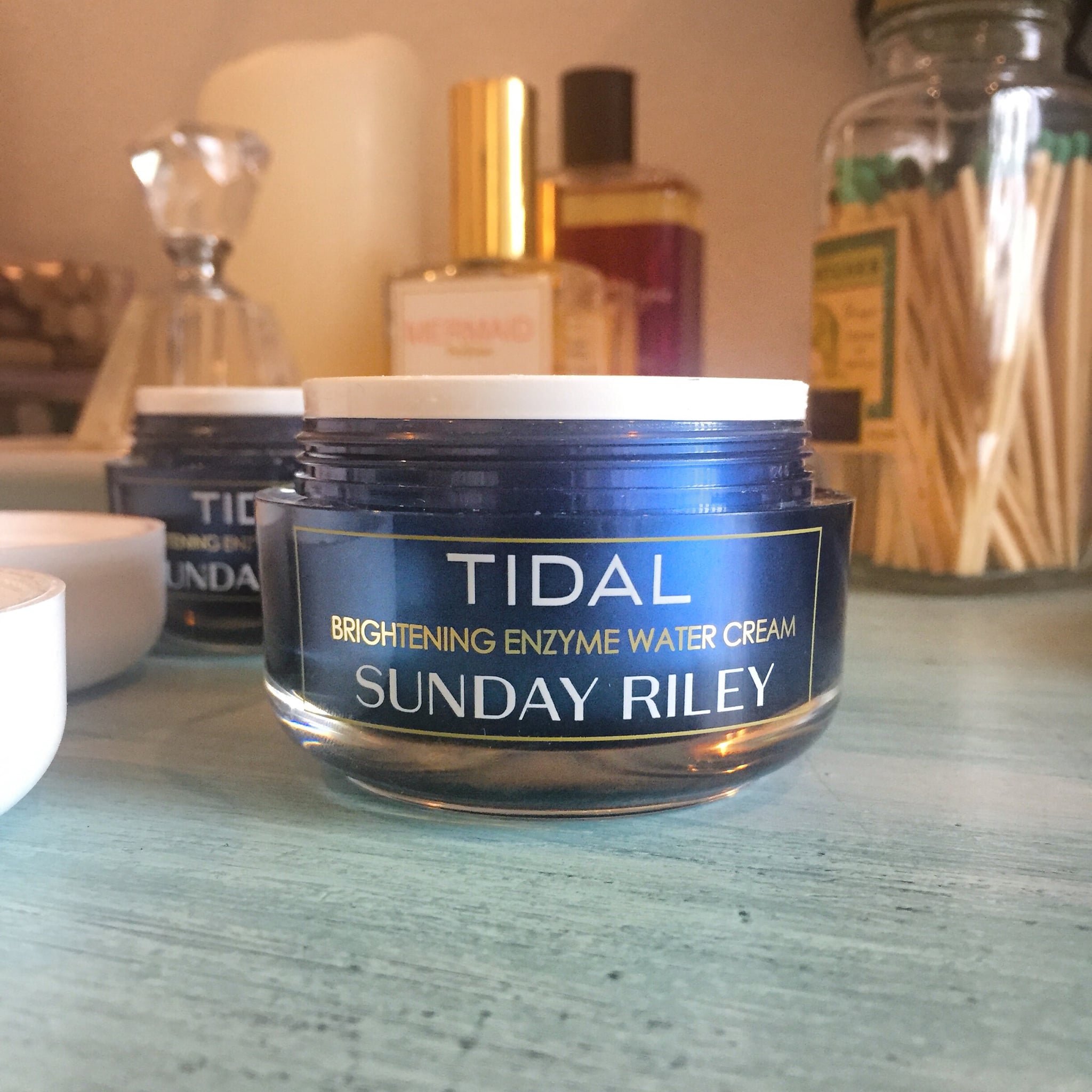 I am a skin care junkie, yes. At POPSUGAR, you know that Lauren is the hair queen, Emily devotes her life to all things lipstick and makeup, and for me, I receive immense joy from reporting on ah-mazing skin care products. (And mascara. We can't forget mascara.) But in the spirit of being honest, as it's my job, I've never been obsessed with a face cream — until now.
I received Sunday Riley's Tidal Brightening Enzyme Water Cream when it first launched in February, and just like any product, I brought it home to test for a few weeks. As I mentioned, I am a skin care obsessee, but my love of product actually ended up wreaking havoc on my face, big time: I was trying and testing too many products at once, and my skin was not happy.
So I took a skin care sabbatical and went on the dermatologist-prescribed face-washing diet of a gentle cleanser and a fragrance-free, minimal-ingredient moisturizer, along with sunscreen. No serums. No heavy creams. No acids to be found. However, this, along with prescriptions, did nothing to help my skin. Dermatologists were quick to hop me up on medications to clear up my face, but they actually made it worse. It was dry, ruddy, and still breaking out. Most women know that when you hit a breaking point, you take matters into your own hands. For some, that's at a job or in a relationship. For me, it was with my skin.
I started using a face wash that gently cleansed and calmed the skin without drying it out, along with Tidal. I think the face wash worked wonders (and highly recommend it for all skin types), but Tidal was responsible for my supple, glowing, even complexion. My skin was bouncy. It was brighter. It wasn't overproducing oil because it was hydrated and satisfied. It had 100 percent chill, if you will.
Sure, Tidal is a buzz-worthy product. But I'm a beauty realist, meaning I'm not going to give into a product just because there's a frenzy to get it. Sunday Riley is known for its cult products like Good Genes and Juno Oil. These beloved picks were even the exclusive skin care products used at Stella McCartney's Autumn 2016 presentation. There was a lot to live up to! But believe me when I say this: Tidal is worth the buzz — and the $70 price tag. You will scrape every last drop of this moisturizer out of the jar because it is that amazing. I bought a jar to keep at my boyfriend's house, and he has started using it.
In addition to the way it made my skin look, here's why it's so awesome: it's made without parabens (preservatives), phthalates ("plasticizers"), and sulfates (detergent cleansing agents). It should be noted, though, that one could argue these ingredients aren't terrible for your skin, but that's another post in itself!
What it does include are ingredients that plump, exfoliate, and get rid of hyperpigmentation of the skin. I'm 29, and these are all issues I deal with: I'm losing collagen as we speak, I have combination skin, and my birth control, while it has relatively low hormones, does bring up minor melasma patches on my forehead. Let's break down more of its rock-star ingredients:
Hyaluronic Acid
Beauty junkies know hyaluronic acid is necessary for plumpness, since it hydrates a deeper layer of skin — Tidal has two forms of it, also found in tamarind extract. Tamarind is a tree, whose fruit can help a variety of issues, from nausea to dry eyes. But for the skin, it's considered a cell-communicating ingredient. (This term makes me think of two skin cells holding cell phones and yelling, "Can you hear me now?" I digress.) Yes, it's actually telling your skin cells how to act! Without getting too scientific, your skin cells are constantly transmitting messages; in this case, the tamarind extract is regulating your skin by hydrating it and protecting it from UV damage.
Alpha-Arbutin
Next up is alpha-arbutin — a skin-lightening agent. It's actually a form (a "glycoside") of hydroquinone, but unlike it, alpha-arbutin isn't as aggressive to the skin but still delivers an even skin tone, which helps fade liver and sunspots, as well as hormonal melisma.
Papaya Enzymes
And it contains papaya enzymes, which are great for cell turnover. They eat away at your dead skin to reveal a softer, smoother complexion without the abrasiveness of a scrub.
I've been using Tidal for four months and have gone through two jars. It's responsible for the reason I have stopped wearing foundation or tinted moisturizer to work on a daily basis (along with the notion that nobody's perfect). And it's why I'm not embarrassed to go out with a visible blemish, because the rest of my skin is so bright and clear that it doesn't make me as self-conscious. So consider this my love letter to Tidal Brightening Enzyme Cream: the first moisturizer that made me believe I needed it in my life. Always. Forever.
And, there's good news! Soon, there will be mini sizes for traveling! But as my boyfriend put it, "Minis? Who wants those? I want a tub!" Perhaps the powers that be at Sunday Riley will offer a giant vat soon?