Sunscreens For Sensitive Skin
How to Pick the Right Sunscreen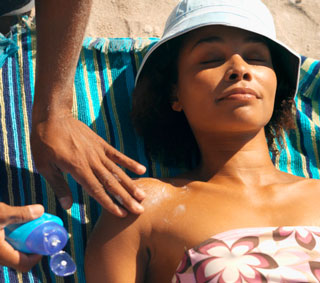 Sunscreen is an everyday necessity, but even the SPF-agnostic recognize its value when warmer, sunnier weather starts. Not all sunscreens, though, are created equal. To begin with, many only protect against UVB rays, when you need protection from the similarly dangerous and far more skin-aging UVA rays as well. And on a more immediate level, a few sunscreen ingredients are common skin irritants, meaning that there's a chance you could experience breakouts. To find out what to look for — and what to avoid — just keep reading.
A good sunscreen had better say that it's "wide spectrum" right there in big letters on the bottle. If not, you probably won't get protection against UVA rays.
Sunscreen has to have titanium dioxide, zinc oxide, mexoryl, or avobenzone (aka Parsol 1789) listed as an active ingredient in order to give you UVA protection.
To decrease the likelihood of an allergic reaction, look for a product with titanium dioxide or zinc, since they're known to be gentle and soothing.
Don't go for less than SPF 30. That lower number doesn't mean anything except that you're getting less protection for your money.
Octyl methoxycinnamate may or may not be your friend. It's a common sunscreen ingredient for blocking UVB rays, but some people also have allergies to it.
PABA isn't in most sunscreens these days, but if you see it in an ingredients list, watch out. It can irritate sensitive skin.
For daily wear, sport and sweat-proof formulas aren't the best, since they're designed to stick to skin and can clog pores. Of course use them when you hit the beach or go hiking, but if you're just on your way to the office, a moisturizing lotion is nicer for your skin and just as good.
Fragrance is one of the most irritating ingredients in skin care, so go for something that doesn't smell like anything.
Expensive doesn't always mean good. With sunscreen, the ingredients are the most important thing, which means you have to spend some time reading the backs of labels.
Check out the widget below for a few of my favorites (I'm using the Cetaphil broad spectrum 50 right now, and it's super gentle).