Superhero Nail Art | Comic-Con 2013
Suit Up For Comic Book Day With Cartoon-Inspired Nail Art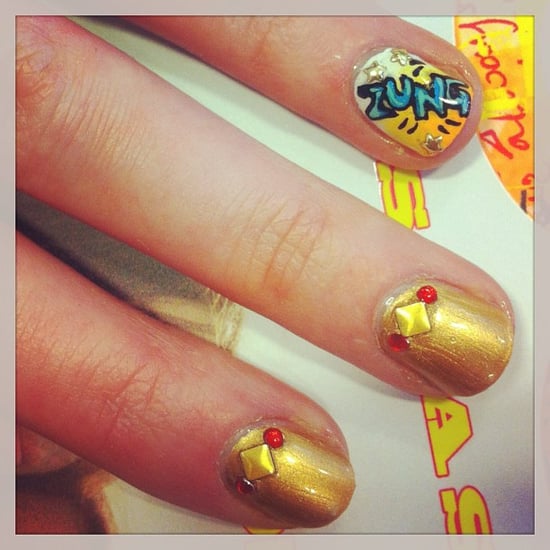 Who doesn't like a little pop art on their nails? And considering today is National Comic Book Day, there's no better time than the present to round up the best cartoon- and superhero-themed manicures from Instagram. We already shared some of our favorite Superman nail art in honor of Man of Steel, but keep scrolling to see more superhero and animated favorites in manicure art!
On Instagram, @asos showed off, "Marvel-ous comic book inspired nails." The gold-bedazzled nails (pictured above) called to mind Wonder Woman's golden tiara. And while we're not quite sure if "Zung" is more "Pow" or "Wham" in comic-book terminology, the bubbled font jumped right off the nail, creating that element of old-school flair. Below, an artist from Wah Nails had a similar idea, using favorite exclamations from comic books in this design.
See more hero-inspired nail designs when you keep reading.

British celebrity Sophia Black got a The Smurfs 2 decal on her nails on a recent visit to esNail in LA. Very appropriate since she has a song on the soundtrack for the new movie.

Back to the comic-book classics, Instagram user nail_art97 made her own Avengers squad with Captain America, Superman, and Batman, as pictured above. However, it looks like Enrich Salon has a preference for Batman and Robin, as evidenced by its artwork below.

With a little nail art, it's easy to show off your favorite comic-book hero. Even if you stick to a simple design, it's sure to add some "Zing" to your look.