Sweat-Proof Makeup For Summer
3 Easy Ways to Keep Your Makeup Sweat-Proof This Summer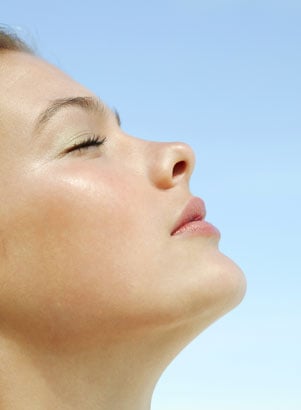 Summer has officially arrived, and while you may want to bust out the old Slip 'n Slide from the attic to cool down, when it comes to your makeup, the last thing you want to think about is any kind of slipping or sliding.
There's no way to completely stop makeup from sweat damage, but there are a few ways you can make it wear more nicely as the mercury rises, with tips from Shiseido's Lien Huynh. To find out more, just keep reading.
A sweat-resistant foundation: Huynh recommends Shiseido's Sun Protection compact foundation ($27) has SPF 34, which shields from both UVA and UVB rays. A powder foundation, this product also works to resist perspiration for hours. Lower-cost alternative: Physicians Formula's Healthy Wear SPF 50 powder foundation ($15).
A no-budge shadow: Huynh says that the crease-resistant Hydro Powder eye shadows ($25 each) are like potato chips, because once you try them, you'll want more. The cream-to-powder shadows are available in 13 bright shades perfect for the warm-weathered season. Lower-cost alternative: Rimmel's Glam Eye mono eye shadow ($4).
Powder-coated blotting papers: Shiseido's Pureness oil-control blotting papers ($18) are coated with powder to put shine to rest and help reduce excess sebum. Lower-cost alternative: Palladio's rice paper blotting tissues ($4).