Sweet Potato Queens St. Patrick's Day Interview
A Southern Writer Shares Tips on Wigs and Tans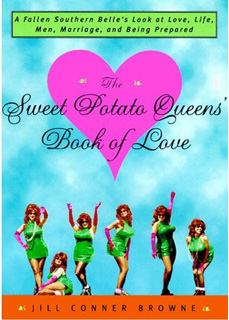 If you've ever heard of the Sweet Potato Queens, then you already know H.R.H. Jill Conner Browne, the author of the hilarious books about the Queens and the nation's third largest St. Patrick's Day parade.
Their wigs and makeup are the stuff of legend, and Jill was nice enough to talk with me about how the Queens get themselves together for the big day, how to keep an enormous wig on, and why spray tan is your friend. To see what Her Royal Highness had to say, just keep reading.
The Queens enjoy a good tan. How do you recommend getting it?
The self-tanners now are fabulous. When I was going on spring break, we had something called Q-T, which turned you orange — like, hunter orange. Now, there's really no reason to ruin your skin. Brown fat looks better than white fat, everybody knows that, but it's possible now to brown it without damaging the top layer of skin. Which is good, 'cause it's got to last you a lifetime.
The Queens all famously wear Revlon Love That Pink lipstick. How did you start doing that?
It was just one of those bizarre things that I came across in the drugstore. As far as I know, it still comes in the green tube: the same one that was in your great-grandmother's purse. It's exactly the same as it was when they invented it, and that gives you a nice sense of permanence.
What about the Queens' amazing makeup?
Well, we put on all this eye shadow and eyelashes, but then we have the rhinestone sunglasses. So really, all we need is blush, lipstick, and sunglasses. The makeup is totally wasted, but we do it anyway. We know it's there even if nobody else knows — it's like cute underwear.
The Queens wear huge russet wigs. How do you keep them on?
You wear a wig cap — which is so attractive — with wig clips. But if we're in a big hurry, I put my hair in a ponytail, and then use big bobby pins, because it's a massive wig.
Where do you get something that big?
We have the ones that we wear and that you can buy on the website specially made. It is literally the most hair you can get — for the money, you can't touch it. Here's a tip, too: They come with a hair net, and some people leave it on, just for the Waffle House effect, but if you put the wig in its hair net, like in a bag, and shake it, it comes out just perfect. If I had real hair like that, I would be insufferable.
People with naturally good hair usually are awful.
Yep, they are. They're terrible people. I hope they die. [Ed. note: Neither one of us is at all serious.]
Well, eventually . . .
Yes, yes they will. I'm waiting. They just need to know I'll be glad.