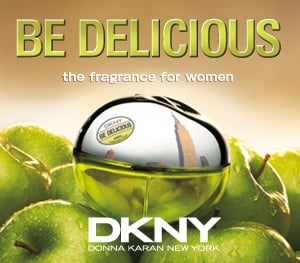 It's impossible to recall the first time we fell in love with New York. Was it the first time an iconic yellow taxi whooshed by? Maybe it was the lunch we enjoyed on the Met steps in true Blair Waldorf fashion.
No matter when the Big Apple first charmed us, it's clear that adventures in New York are ripe for the picking. Around every single corner lies a new surprise. Lucky for us, DKNY took the liberty of bottling the essence of New York's vivacious zest for life in the form of a fragrance called Be Delicious. With juicy top notes of crisp apple DKNY's Be Delicious fragrance is as fresh, provocative, and downright scrumptious as its namesake city.
Take our poll below and then head to the DKNY Fragrances Facebook page to take the Scent Finder quiz. The quiz helps you discover your perfect scent based on your personal style, favorite music, fantasy vacation, and more!