Tamanu Oil
Definition: Tamanu Oil
As POPSUGAR editors, we independently select and write about stuff we love and think you'll like too. POPSUGAR has affiliate and advertising partnerships so we get revenue from sharing this content and from your purchase.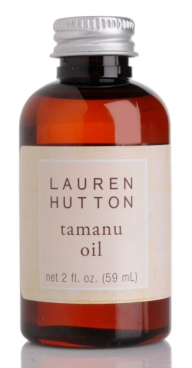 Native to Southeast Asia, Calophyllum inophyllum, an evergreen-type tree, yields a large nut from which tamanu oil is obtained. The benefits of this oil, which is called sacred by native Tahitians, are plenty; and the ingredient is used most often in skincare products to ease inflammation, soothe sunburn, and improve the skin's elasticity.
Due to its silky texture, tamanu oil soothes and softens, all while providing antioxidant, restorative, and antibacterial properties, and that's exactly why this ingredient is included in blemish, acne, and wound-healing products. Bonus? With a rich nutty aroma, it smells great, too. For products with tamanu oil, try REN's Tamanu High Glide Shaving Oil ($28), Lanza's Tamanu Cream Shampoo ($20), and Lauren Hutton Tamanu Oil ($30).