Tanning Addiction May Be a Disease
Is Tanning Addiction an Actual Disease? Some Say Yes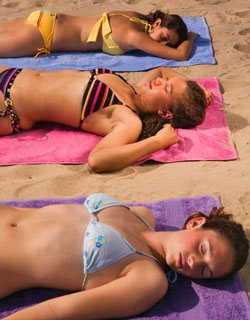 Some people dismiss their frequent tanning appointments by claiming that they don't feel healthy or attractive without a tan, but new evidence suggests that they could be physically addicted to tanning.
Exposure to the high levels of UVA in modern tanning beds releases a rush of feel-good endorphins, and the sense that a tan makes you look thinner or prettier further reinforces that sense of well being. In fact, researchers at Wake Forest found that frequent tanners actually went through withdrawal when given medicine that blocks the pleasure centers that narcotics usually affect. And 26 percent of frequent tanners who filled out a standard questionnaire used to measure alcohol abuse fulfilled all the necessary criteria to be considered addicts. Now several researchers are angling to have "tanorexia," as it's half-jokingly known outside the medical community, added to the next Diagnostic and Statistical Manual of Mental Disorders — the bible of therapists and analysts everywhere.
With all the negative information now out there about prolonged and overfrequent UV exposure, do you think tanning addiction should be classified as a disease?