Teeth-Whitening Solutions
5 Things You Can Do Now For a Whiter Smile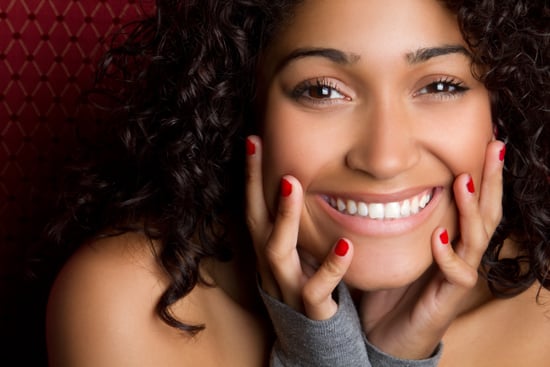 So, you've decided to treat yourself to a dinner with pasta sauce and a glass of red wine. While it will all taste great going down, you run the risk of staining your smile (which could be especially worrisome if you're at an important event or a first date). We asked Dr. Jeffrey Rappaport, cofounder of Lavaan Dental Spa in New York City, for his on-the-go whitening solutions.
Order carefully. "The most staining foods are those you'd expect: tomato sauces, coffee, tea, and red wine," explains Dr. Rappaport. So when you're looking at the menu, avoid any items that could stain a white shirt (or your teeth).
Pack your toothbrush. If you must have that pasta sauce (cravings are hard to combat), take along your toothbrush to quickly get rid of stain-causing residue. And if your toothbrush won't fit in your evening clutch, a quick rinse with water in the ladies' room will do.
Have gum for dessert. "
The gum increases the amount of moisture in your mouth which can help rinse away offensive stains — we recommend it be sugarless and has Xylitol in it!"
Wipe stains away. Dr. Rappaport recommends Wine Wipes ($7) for those nights when staining foods and drinks are being served. "It's a small piece of cloth with a little whitening agent in it," he says. "You can discreetly wipe your teeth following your glass of wine and it will clear the stain."
Take time for touch ups. If you're a fan of at-home or professional whitening, then you want to maintain your pearly color as long as possible. Dr. Rappaport tells his patients to use the Glo Teeth Whitening Maintenence pen ($25) in between treatments.