Testing MAC's New Jeanius Denim Eye Shadows
MAC Jeanius Eye Shadows Are Positively Riveting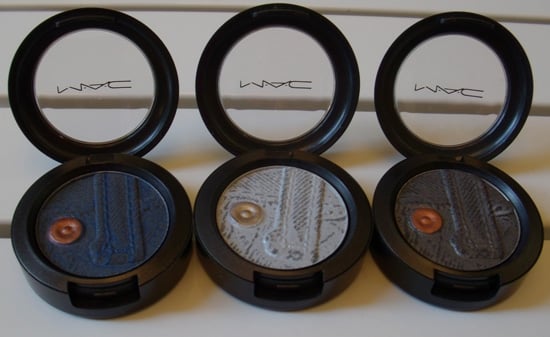 MAC's new Jeanius collection is all about denim. But the cutest and most noteworthy pieces have to be the denim Jeanius eye shadows ($20 each), which look like the corner pocket on a pair of jeans. I tested all four shades, so to find out what I thought and see a picture of how the pans stand up to use, just keep reading.


I was so excited to get these shadows because I adore the embossed pigmentation, especially the little silver and copper rivets. They are designed to be worn with your favorite jeans, and I did like the way the Stovepipe Black color looked with my regular black wash jeans, although I'm not sure how well the shade would show up on someone with a deep skin tone.
My only issue here (and it's a purely an aesthetic one) is how quickly the embossed color wears off. Just a couple of applications and you're left with a totally average looking pan, because the color doesn't go any further than the very surface. However, the quality is exactly what you'd expect from MAC: smooth application, really buildable, and rich with pigment.