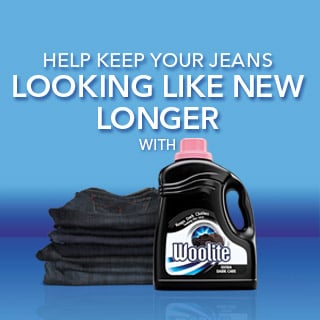 Those favorite jeans of yours are due for a much-deserved cleaning — with Woolite® detergent, give your jeans the care they need and keep them looking new for longer. It's simple! Here's how:
1. The first time you wash your new jeans, wash them separately.
2. Always wash your denim inside out. It'll help to protect all those itty-bitty fibers.
3. A clean machine is an effective machine! Refer to your washing machine's handbook for the how-to on ridding your machine of chlorine, dirt, and smells.
4. Use Woolite® Complete™ and Woolite® Extra Dark Care to avoid shape loss and fading.
With Woolite® products, you'll give your best jeans the clean and care they deserve, and you'll help arm them against stretching, shrinking, or fading. Go forth and clean!