Tips From Celebrity Makeup Artist Scott Barnes
Scott Barnes Talks About Face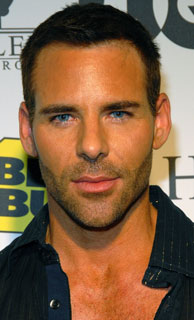 Among makeup artists, Scott Barnes's work is instantly recognizable: fresh, glowing women who exude confidence and usually sport a fierce (faux) tan. He's the man behind Jennifer Lopez's iconic look, the creator of Body Bling, and he's worked on everybody in the biz. Now, in a new book called About Face, Scott reveals his techniques and creates beautiful looks for women of all skin tones, textures, and ages.
To find out what the maestro had to say about getting a great look, just keep reading.
What's the best makeup look for Spring?
Almost ice-cream pale shades. If you're going to do eye shadow, it should be soft, and blushes should be really soft, too. It's a time of rebirth, so I say, "You know what? Let's look fresh."
What's the best way for a woman who has minimal time to incorporate some of your principles into her daily makeup application?
There's a chapter in the book, with a woman named Linda, that's about exactly that. I always tell people that at minimum, the easiest way to pull your look together is by curling your eyelashes, then applying a beautiful mascara — I like Cover Girl. Use eye drops to really brighten up your eyes; one of my favorite brands in the world is Naphcon-A because they last up to 12 hours and they're lubricating, so they don't dry out your eyes like a Visine does. Then, throw on a lip gloss.
What are your tricks for getting a great eyelash curl?
I take the tips of my eyelash curlers and rub them back and forth between my fingers to make them a little warmer — it makes it easier than when they're cold. The Shu Uemura eyelash curler is the best curler on the market, because it has a round bumper as opposed to a square bumper, which crimps the lashes instead of curling them.
How do you fake perfect skin?
I'm always a big fan of using cream foundations. They seem to work best for me, and you get the best results from them. You can control the coverage where you need it in case you have some problem areas. It also has a tendency to keep that dewy, fresh look of perfect skin without being too heavy.
The book talks about your great facial relaxation techniques — do you have any other quick pressure points or massage strokes to help women get the Scott Barnes glow?
Underneath your eyes next to your nostrils is a really good one. Especially this time of year with all the dry heat, people tend to be a little more congested there. So pushing there really helps to open it and flush that, which will then take away some puffiness and make your face look a little bit thinner and more relaxed. We hold so much tension in our faces, and that has a tendency to make us look a little bit harder, so you always want to soften.
How did you decide to write About Face?
There's a quote in the book from Maya Angelou that says "Each of us has that right, that possibility, to invent ourselves daily. If a person does not invent herself, she will be invented." And that's really the truth. So you have to take control of your own beauty and your own health. That's what prompted me to write the book, as opposed to beauty for beauty's sake.