Tips For Getting Men Into the Spa
4 Tips For Getting the Guy in Your Life Into the Spa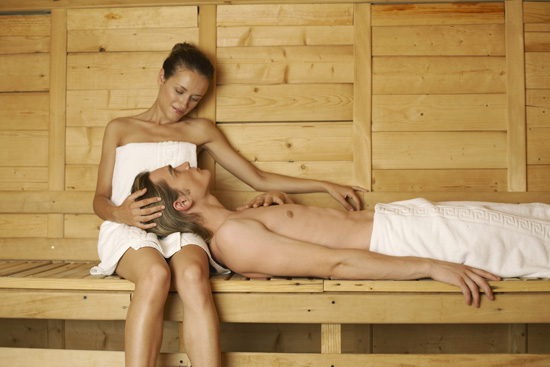 If stereotypes ring true, most men would rather be downing beers and catching the game instead of getting pampered at the spa. But in reality, when most dudes give spas a chance, they're pleasantly surprised. "We are seeing more and more men that are interested in going to the spa, and there isn't the stigma that there used to be," explains Stacey Parks of Spa Claremont in Berkeley, CA. And since Valentine's Day is just around the corner, it could be a rather pleasant treat to get your boyfriend or husband to head to the spa with you. Or perhaps you'd like to get a spa gift certificate for the guy in your life. Whatever the case, to see Stacey's tips for getting your man on his way to a full-body scrub, just read more.
Play up the fitness angle: Many spa services also include access to the surrounding fitness facilities like the jacuzzi and swimming pool. "The fitness aspect of it does appeal definitely to men," explains Stacey. "You can even take [exercise] classes together," she adds.
Spa together: "I would suggest booking a couple's service as something you can do together," says Stacey. At the Claremont, for instance, the Valentine's Signature Spa Experience For Two ($250 each) includes a foot massage, tea service, side-by-side massages, sparkling wine, chocolate treats, and spa access.
Make an event out of it: Does the spa have a hotel? If so, make a romantic weekend out of it with your significant other. "If you book a package you actually have many more options," she adds, including amenities like dinner, spa passes, and — see bullet one — the fitness facilities. The Claremont Resort (which includes the hotel where Brad Pitt and Angelina Jolie stayed at last year) has such a service, offering an overnight Be My Valentine package (call for pricing).
Look for services that cater to men: Sports or deep tissue massages tend to attract men more than aromatherapy or relaxing massages. The way the service is worded makes a difference, too. "For the men that may be a little bit more timid about having a service called a 'manicure' or 'pedicure,' we actually call it our Scrub and Rub Hand Treatment and Scrub and Rub Foot Treatment," explains Stacey. "It's more of an exfoliation of the feet and the hands with a sugar scrub and a massage afterward. So that's very appealing to the men," she adds.