Tips For Washing Your Face at Night
Never Forget to Wash Your Face Before Bed Again
As POPSUGAR editors, we independently select and write about stuff we love and think you'll like too. If you buy a product we have recommended, we may receive affiliate commission, which in turn supports our work.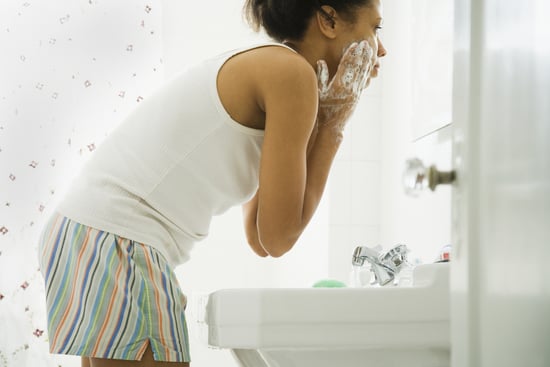 Admit it: sometimes you roll over in bed without removing your makeup (oops!). It happens to the best of us. But in 2013, resolve to wash your face every night to have healthier, clearer skin. Get a few simple tricks to make remembering easy when you read on.
1. Make it accessible: Cleansing doesn't always have to be at the sink. Keep products in multiple locations so it always fits in your busy schedule. Place a liquid wash in the shower, so it's easy to wash your face when you're already scrubbing down. If you have the tendency to fall asleep before cleansing, try packing makeup removing wipes in your nightstand for a quick fix.
2. Make it simple: Are you using a makeup remover followed by a face wash? Shorten the process with a double-duty product. Cleansing oils like Vapour Organic Beauty Clarity Cleansing Oil ($28) melt makeup (even waterproof formulas) while leaving your face free of dirt, too. You can also reach for a one-step wonder like Caudalíe Cleansing Water ($14). This micellar water goes on like toner but removes makeup without drying skin out. No further rinsing required.
3. Make it convenient: Laziness is the primary snag in any face-washing routine. It's easy to remember the morning wash, but at night. . . . Don't wait to do an evening cleanse until right before bed. Instead, wash as soon as you get home in the evening, so you aren't prone to dozing off before you get to the sink. Plus, it's OK to just rinse off in the morning. Making sure you get a good cleanse in the evening — makeup and all — means the morning will be that much easier. All you need to do when you wake up is splash a little lukewarm on your face, and you're good to go. Perhaps you can even get a few more minutes of sleep.
Vapour Organic Beauty Clarity Organic Makeup Removing Cleansing Oil 0.98 oz (27.
Buy Now