Tokidoki Perfume Review 2011-07-04 09:07:00
Tokidoki Perfumes Smell Cute, Too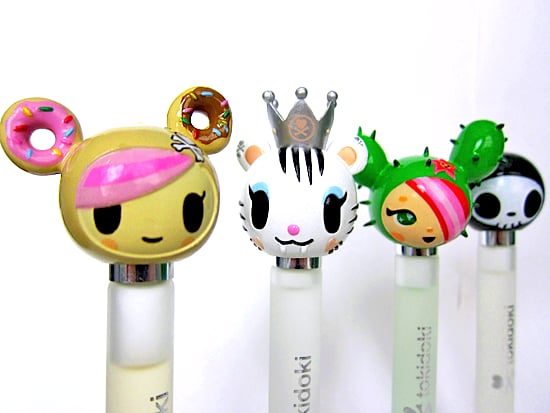 We've reported on the launch of the latest Tokidoki venture — these adorable roller-ball perfumes ($18 each). And now, I've actually gotten my mitts on them to give a full review. I have Adios, Siberia, Donutella, and SANDy on my desk right now, in fact. So what's the verdict on your favorite characters' new signature scents? To find out, just keep reading.
Adios
Adios smells almost exactly like masala chai. Not coffeehouse chai, either, the real, spicy, creamy thing. As it develops, it's tempered with a little sweetness, and it dries down to a slightly sweet, peppery skin scent.
Wear it if you:
Love spicy scents or fragrances for men, or are a chai addict.



Donutella
Donutella really does smell like a baked good; first, there's a warm whiff of freshly baked cake, and then a swirl of vanilla icing. The accuracy is almost disturbing.
Wear it if you:
Can't get enough of gourmand scents, or love the Demeter Fragrance Library.



Siberia
Siberia is a lot like a sno-cone: light, watery, sweet, and fruity. It smells, specifically, like an apple glacée flavored with non-natural (but still pretty yummy) syrup.
Wear it if you:
Love barely there scents, unique fruity florals, or DKNY Delicious.



SANDy
SANDy opens up green and smelling like a cactus, but sweet, sugary grapefruit and a hint of melon soon join in to temper the scent and make it feminine.
Wear it if you:
Want a sweet but tangy warm-weather perfume that will keep you smelling good without being too heavy.