You can't go wrong with a trendy topknot style. This simple updo will keep stray hairs out of your face and off the neck. And while this go-to style often skews casual, when adapted to a sleek texture or wound in a more intricate fashion, it's perfect for dressier affairs, too. Click through to get topknot inspiration that will work whether you're poolside or party bound.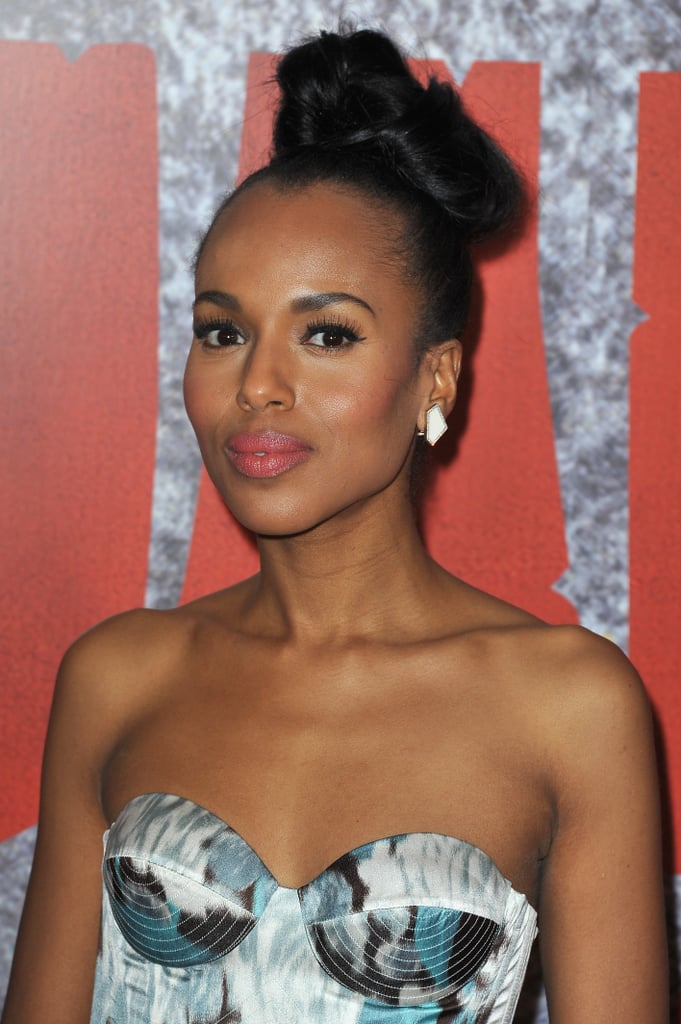 Kerry Washington's intricate knot is actually a strategically pinned bow design.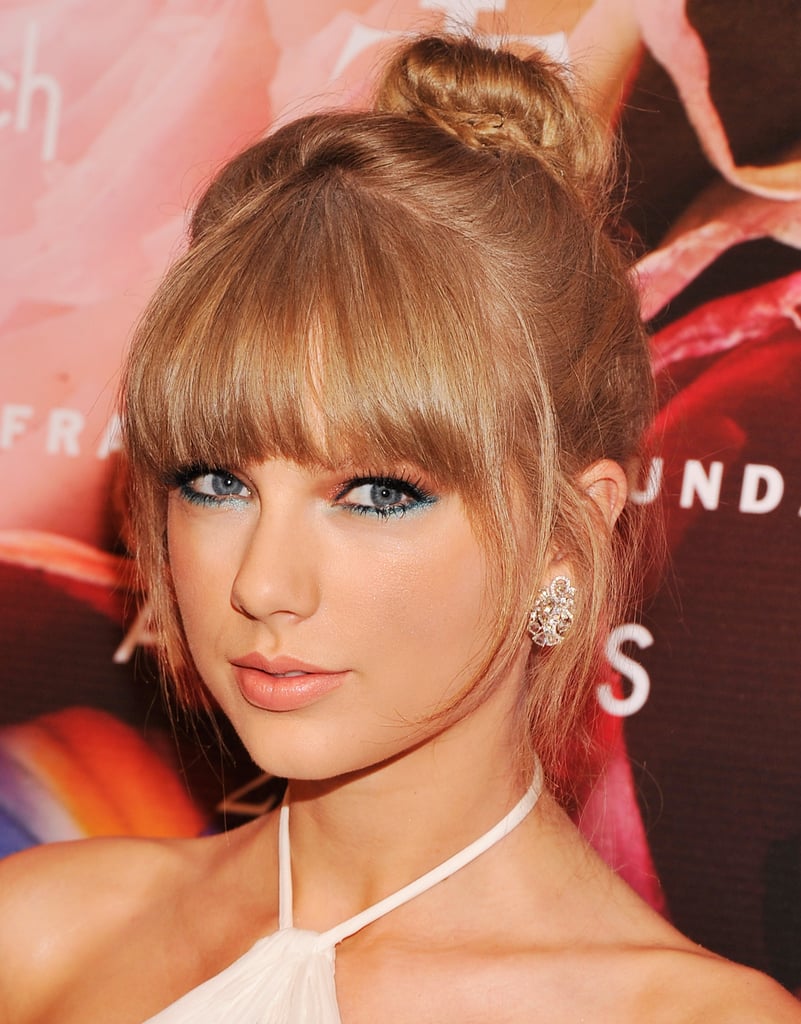 A few bobby pins kept Taylor Swift [1]'s loose topknot in place at the Fragrance Foundation Awards, further proving that for this style, the less fuss the better.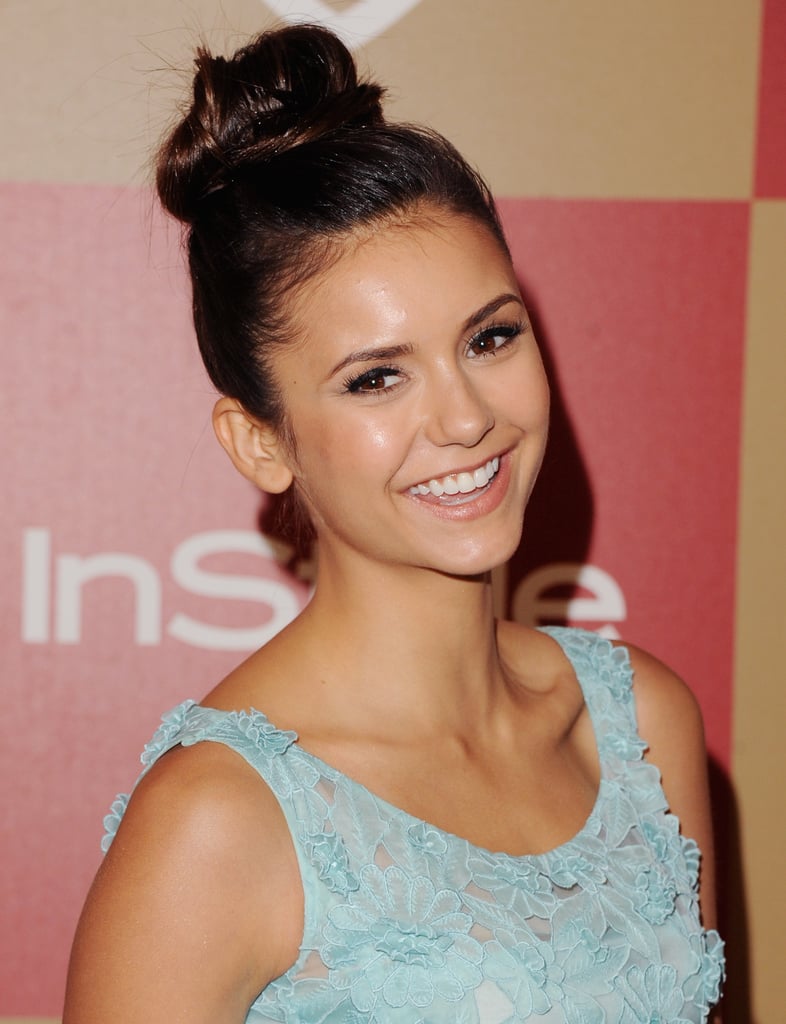 Right above the crown is the prime topknot position; just follow Nina Dobrev [2]'s example.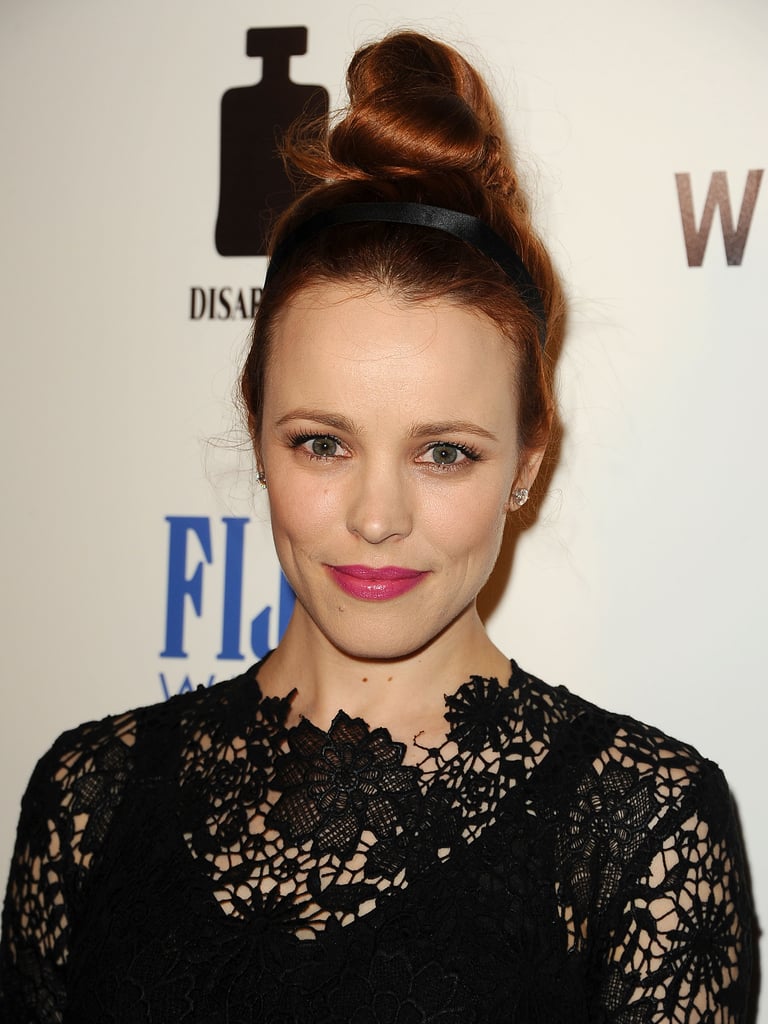 To achieve this impressive topknot, Rachel McAdams [3] had the help of stylist Mark Townsend [4].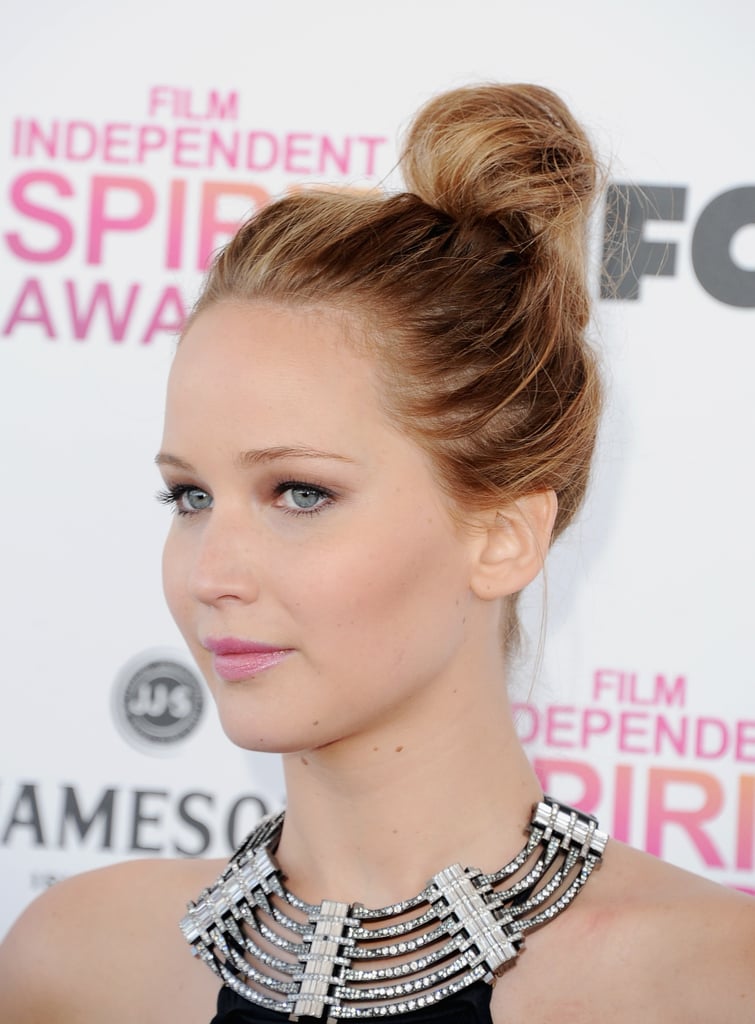 Jennifer Lawrence [5] went for a messy roll that has tons of texture. All you need to re-create this look poolside is a trusty elastic.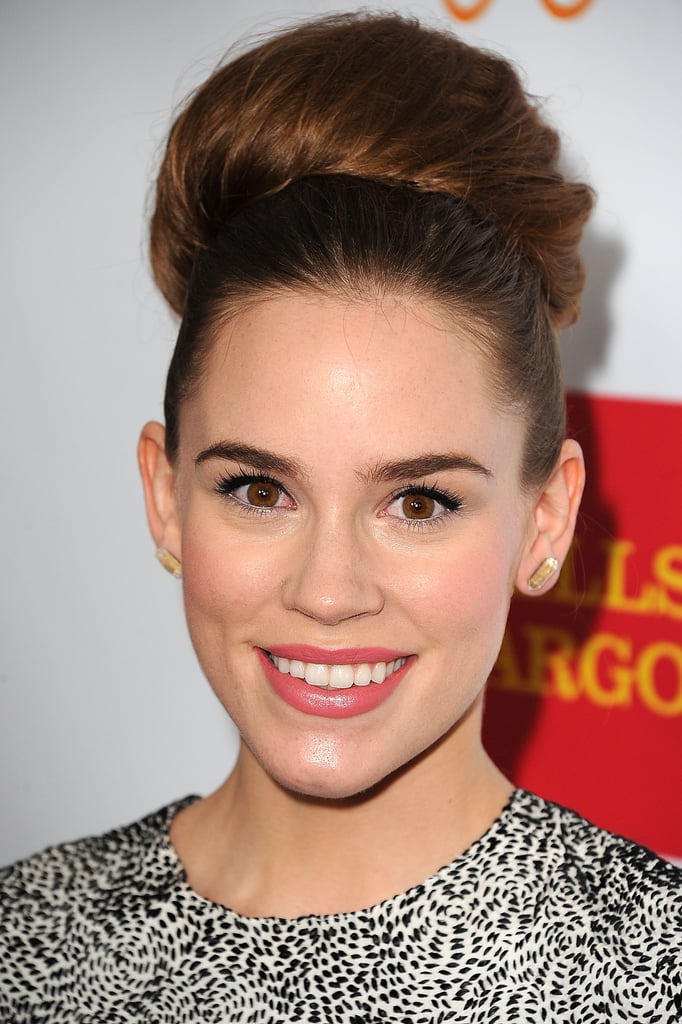 When it comes to topknots, you have miniature versions, and then there are oversize looks like Christa B. Allen's. To achieve the voluptuous size, add some extensions near the base of your high ponytail, comb, and pin hair over the top.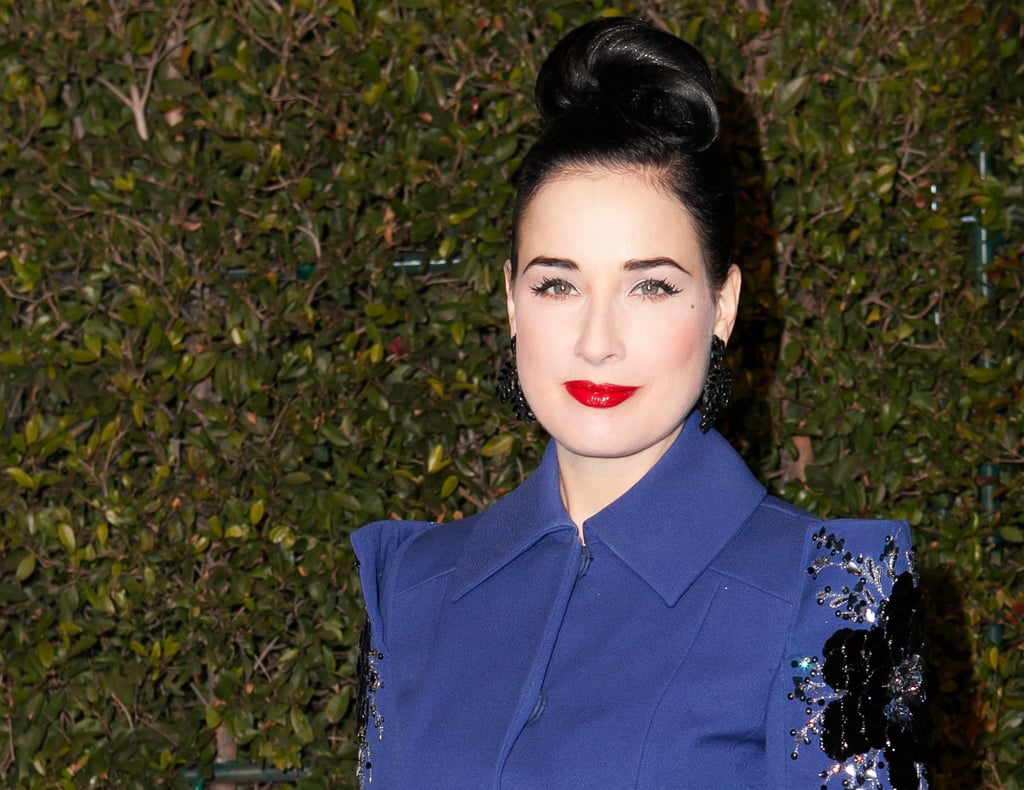 It's rare you see Dita Von Teese [6] in anything other than vintage waves, but this updo modernizes her retro style considerably.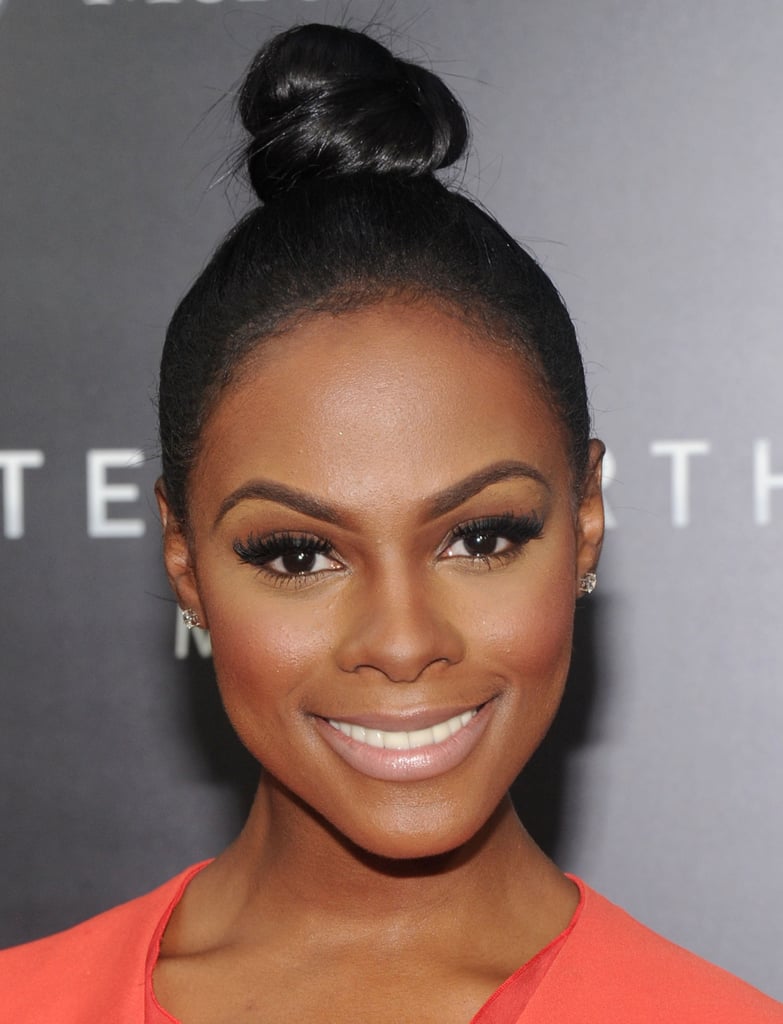 To get a simply sleek knot similar to Tika Sumpter's, pull hair into a tight high ponytail, then twist hair and pin.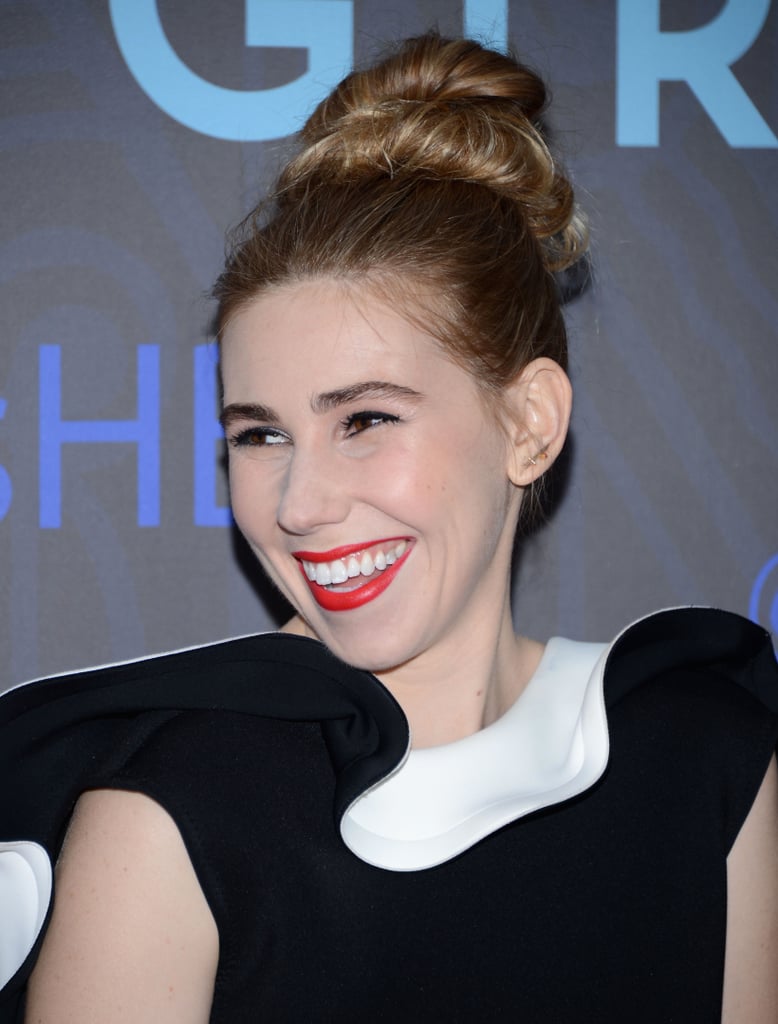 Ladies with thick hair can easily copy Zosia Mamet's bun. First split your ponytail into two sections, then pin one on top of the other for a beehive effect.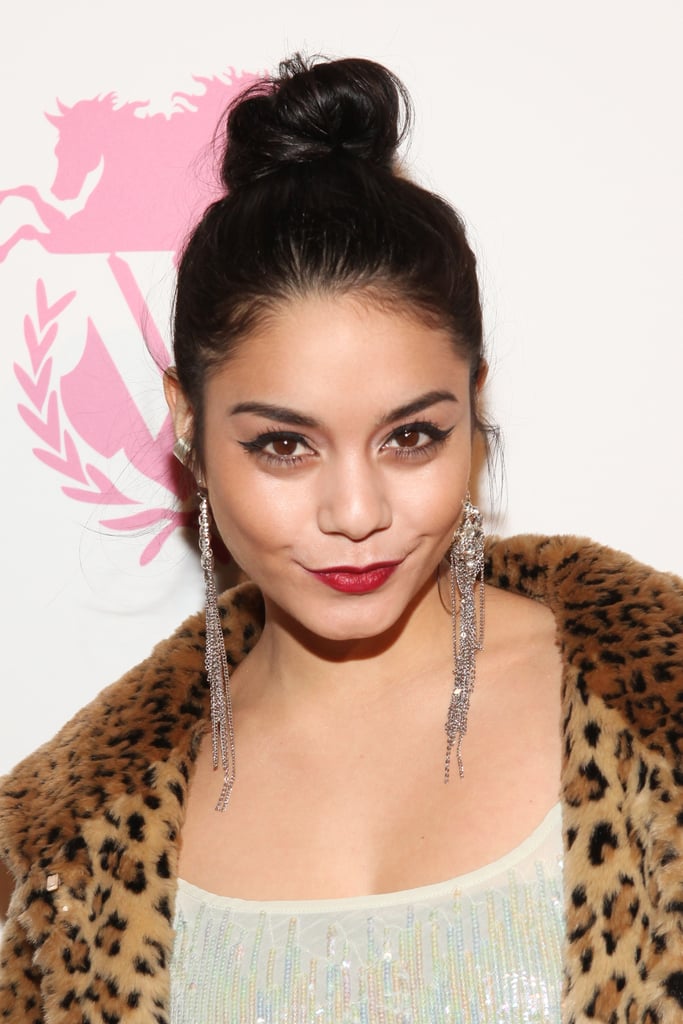 To dress up a topknot like Vanessa Hudgens [7], just add red lipstick and cat eyeliner.
Kristen Wiig swept her hair up into a precarious topknot that will keep your hair color safe from chlorine when you take a dip this Summer.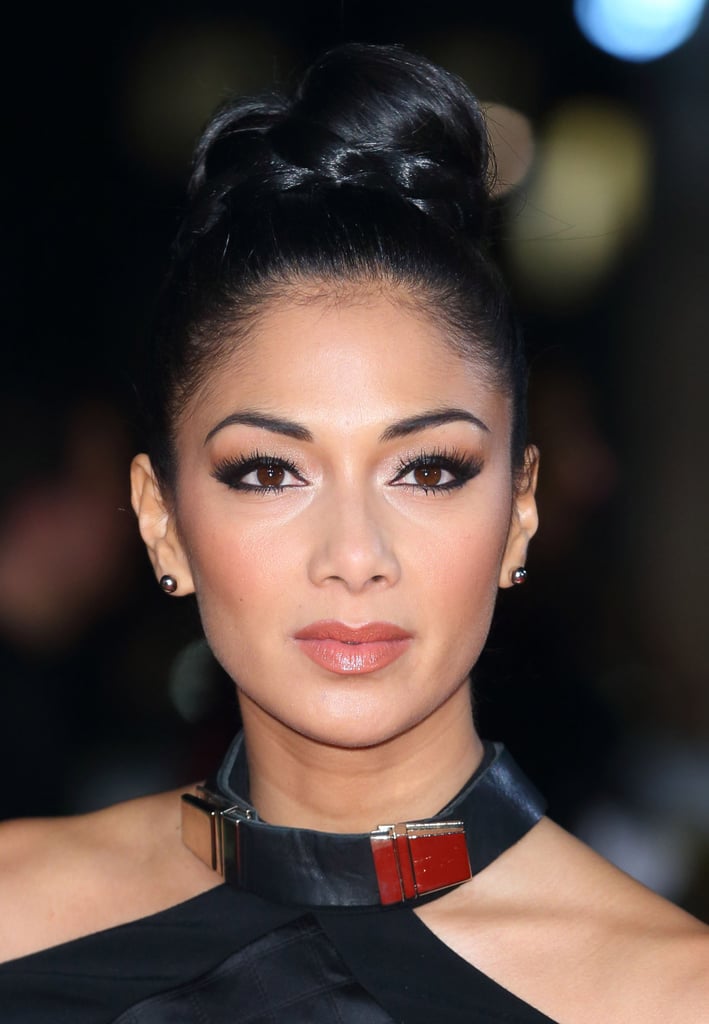 Just like you often see hair wrapped around the elastic of a ponytail, you can create a similar style with a topknot. Nicole Scherzinger accented hers with a braid.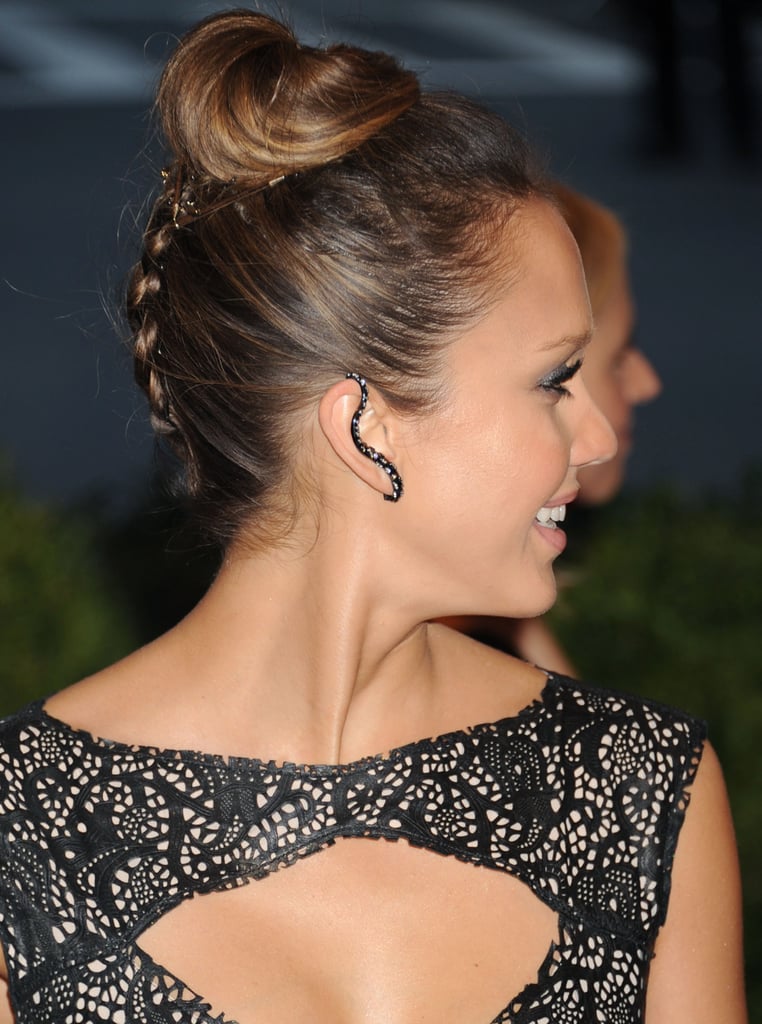 Here's a braid/bun combination that was spotted on Jessica Alba [8]. For the Met Gala, she wore an inverted french braid that culminated in a doughnut-shaped knot.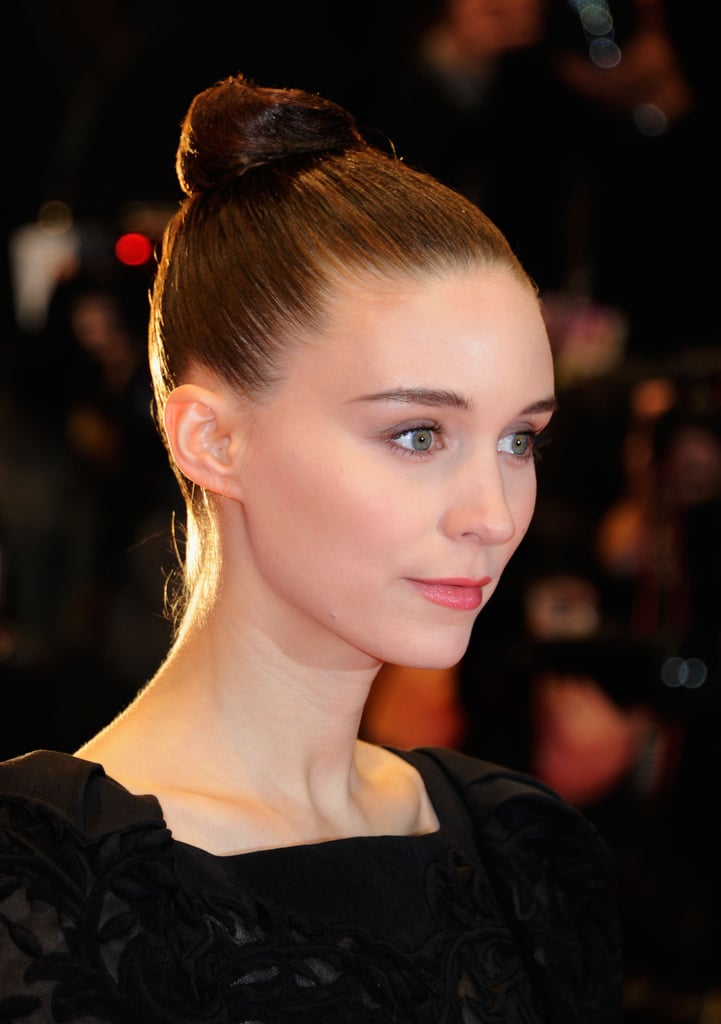 You'll need a good amount of gel or pomade to get your hair to stay put à la Rooney Mara. She has no flyaways in sight.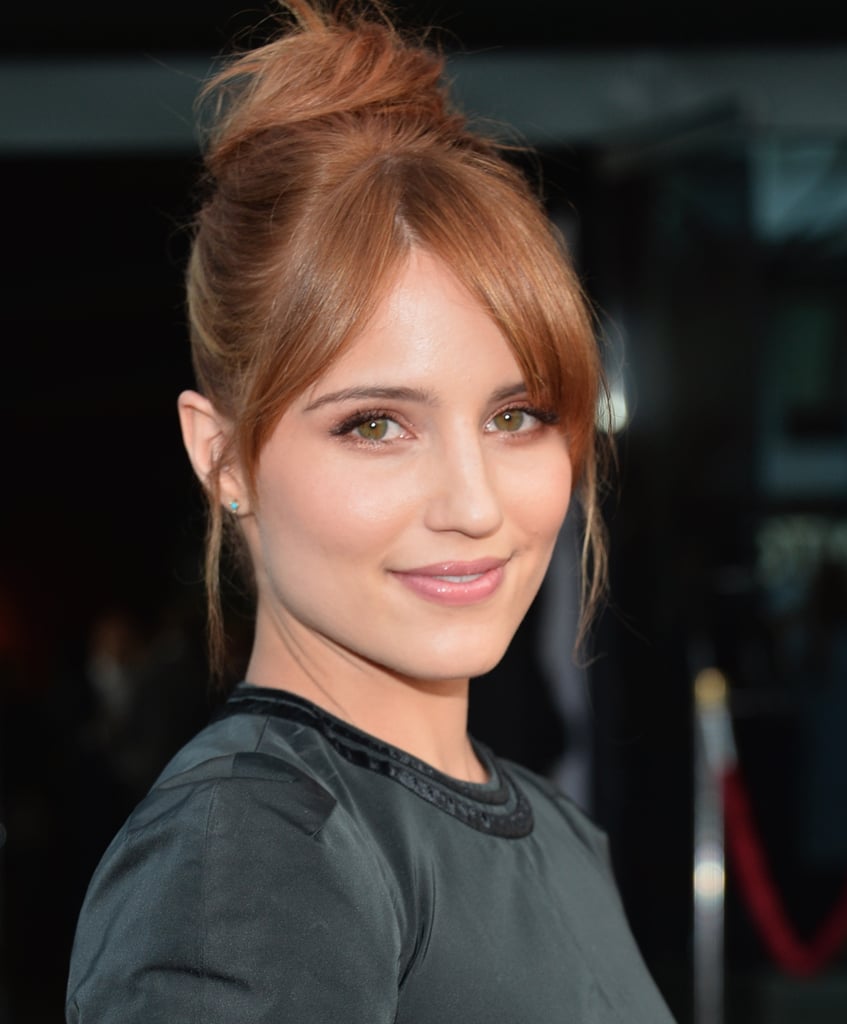 If your fringe won't pull back into your topknot, let it hang out. Dianna Agron [9] split her bangs down the middle for a relaxed feel.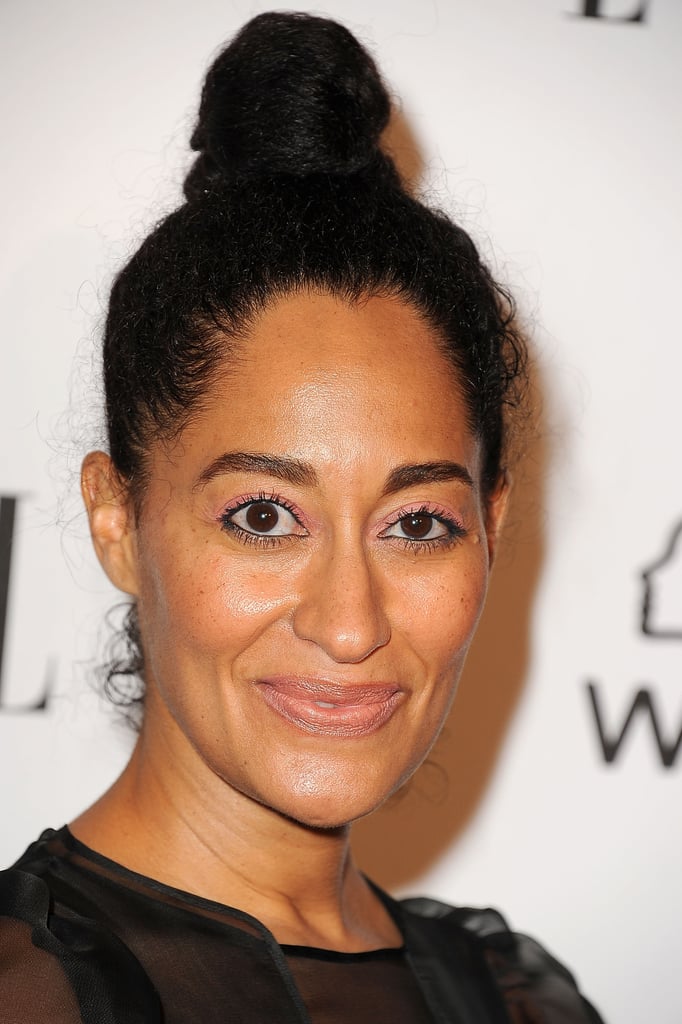 Actress Tracee Ellis Ross pulled her thick curls into a high bun, which is the perfect option for second-day hair.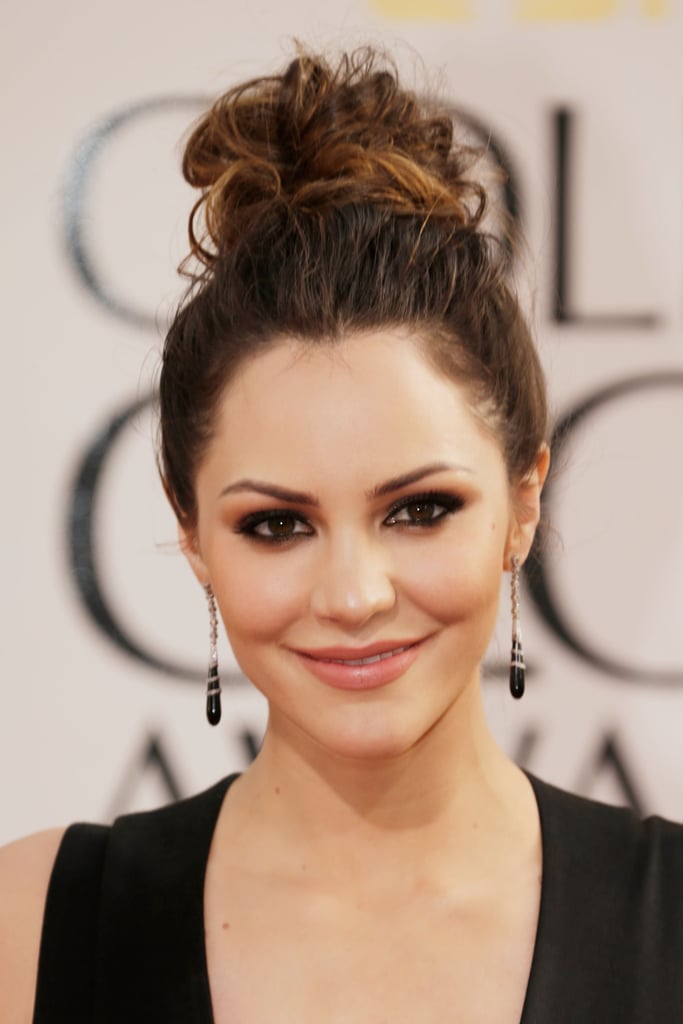 A topknot is one style that also lets ombré highlights shine. Katharine McPhee rocked a two-toned topknot to the Golden Globes.
Kelly Osbourne mixed crimps and a starry hair accessory for this punk-chic topknot at the Met Gala.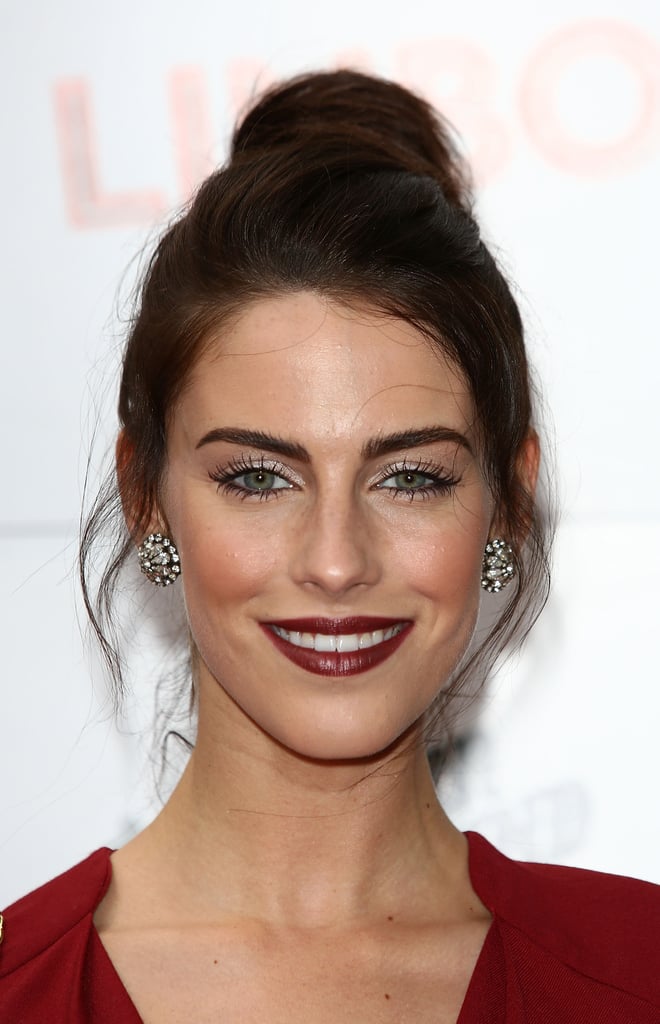 To add softness to your topknot, just add face-framing tendrils, like Jessica Lowndes shows here.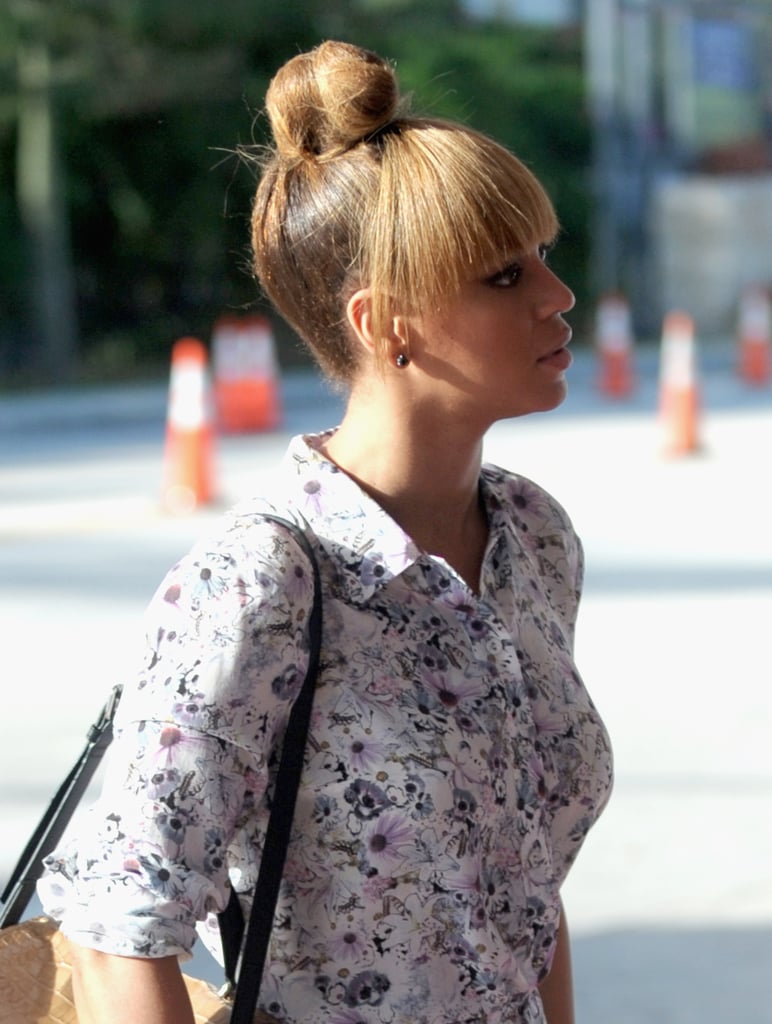 Beyoncé Knowles [10] left her blunt bangs out for this easy topknot look.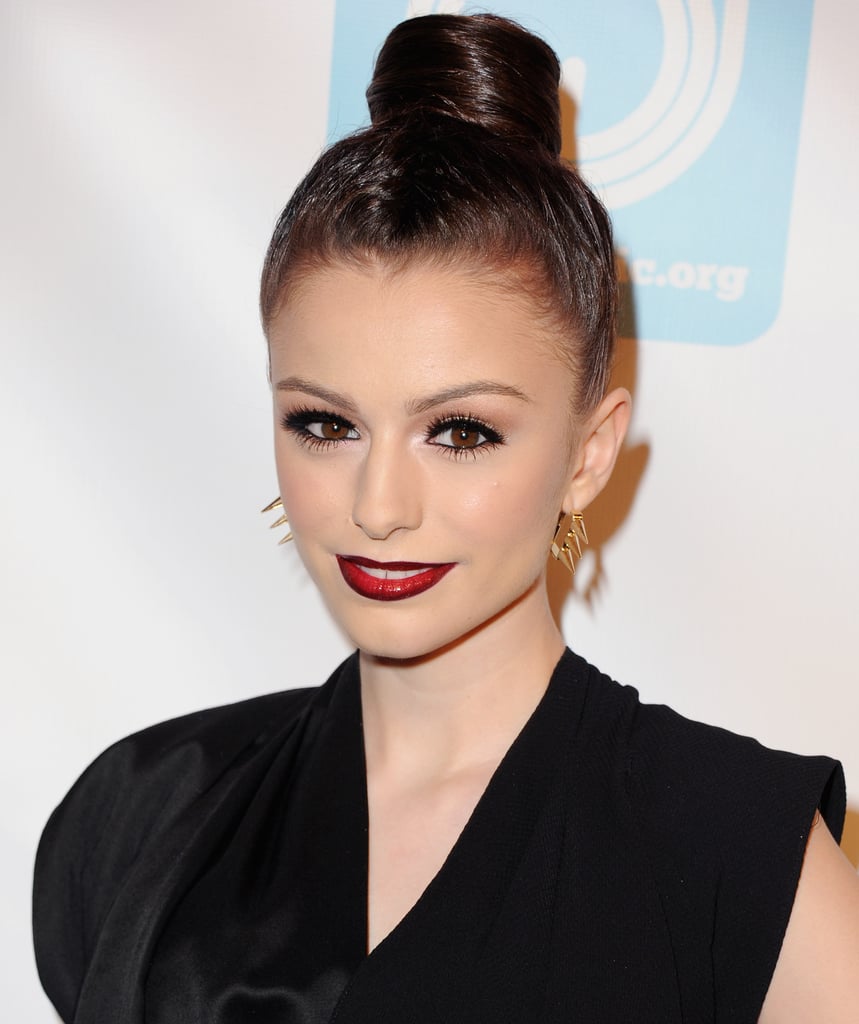 This high bun, as spotted on singer-songwriter Cher Lloyd, has a cylindrical shape that's quite unique.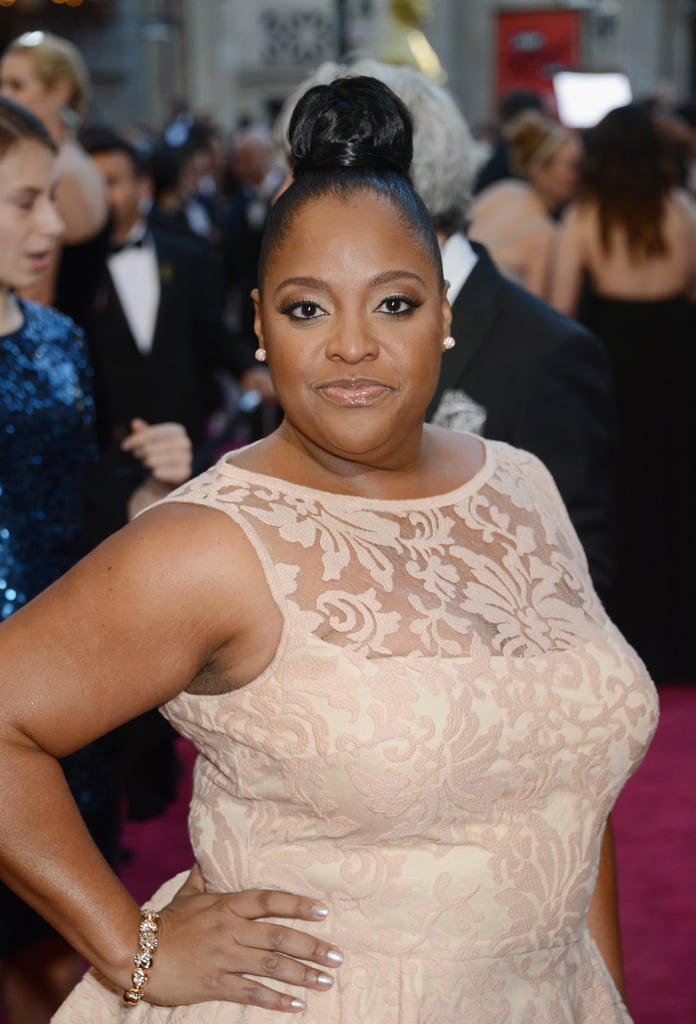 Sherri Shepherd's Oscars look featured a skyscraping bun that was topped off with a band of hair at the base.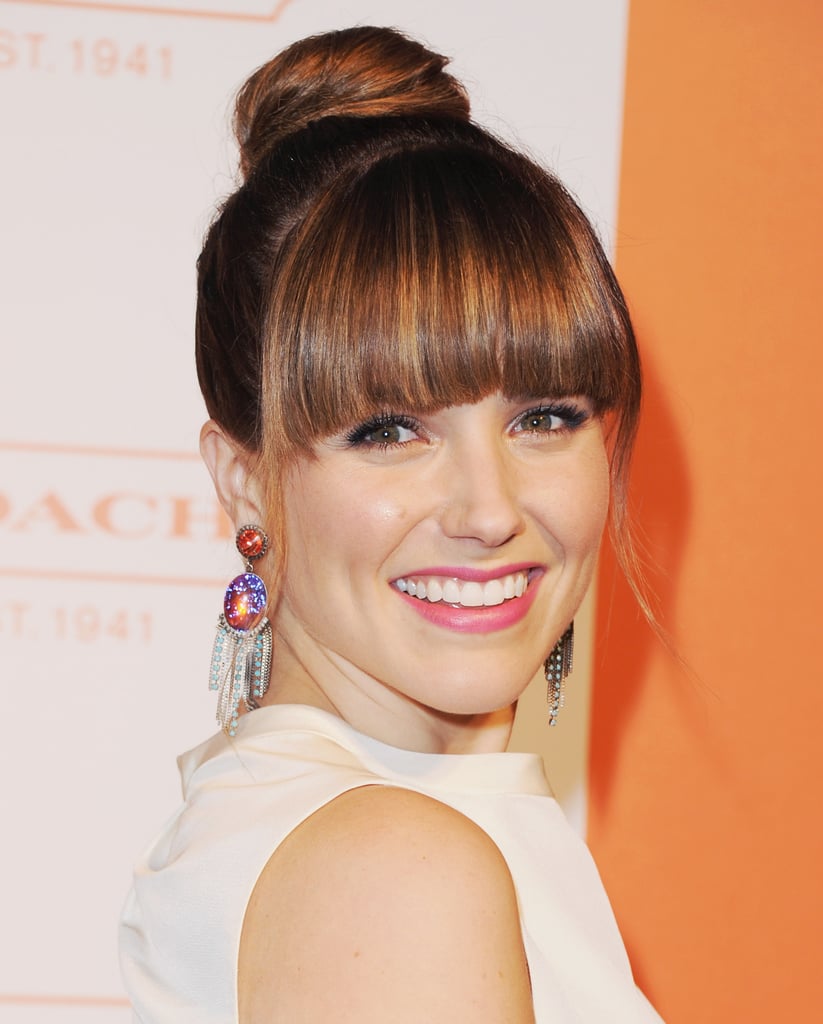 Sophia Bush played with texture and shape with this flattened topknot style, allowing her blunt bangs to take center stage.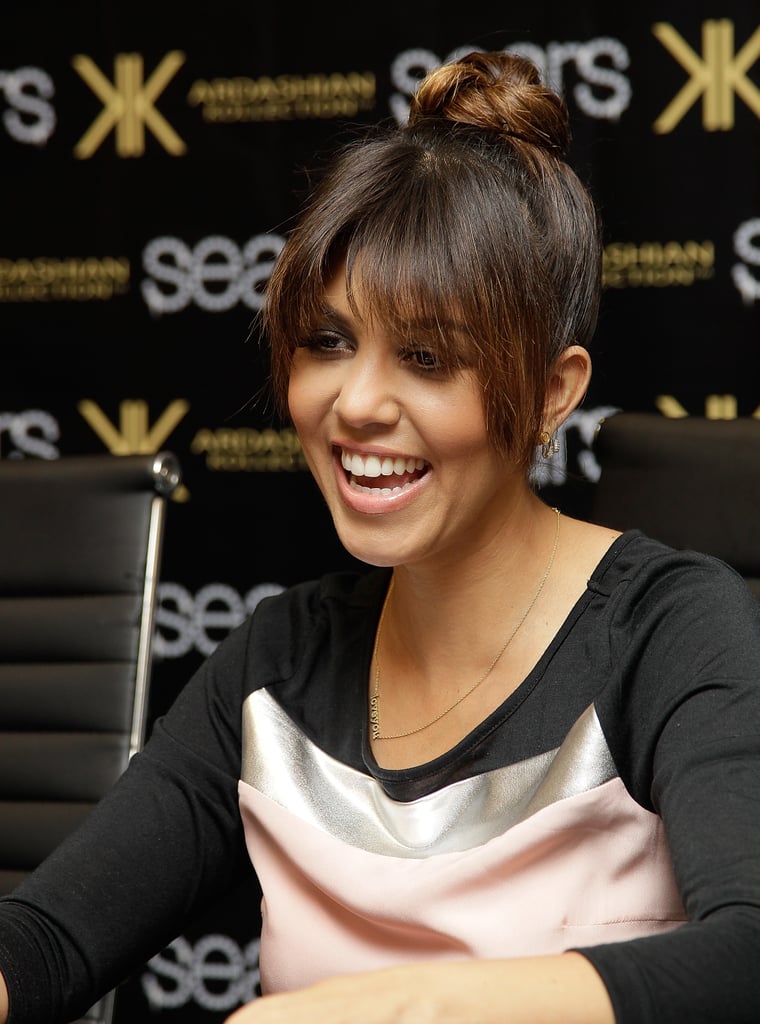 Kourtney Kardashian paired her rounded fringe with a loose topknot for a fashionable effect.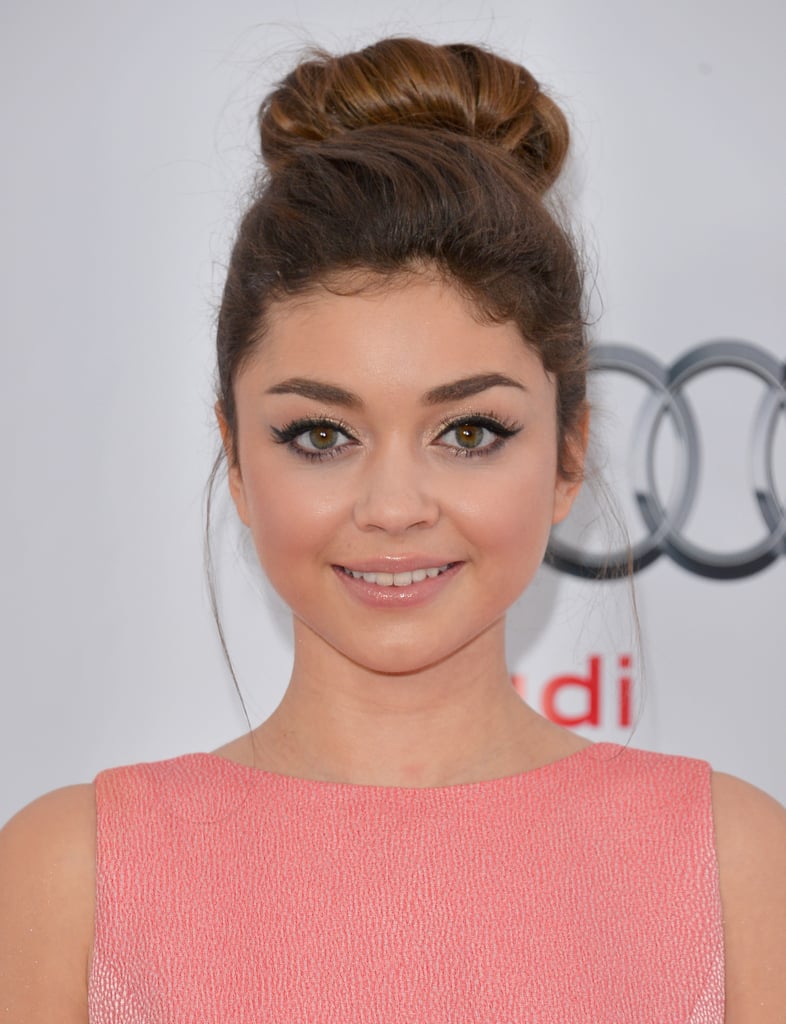 To get Sarah Hyland's doughnut-shaped topknot, use the old sock bun trick. Cut the toe portion out of a sock and roll it into a circular shape. Thread your ponytail through and then pin hair over the top for added volume.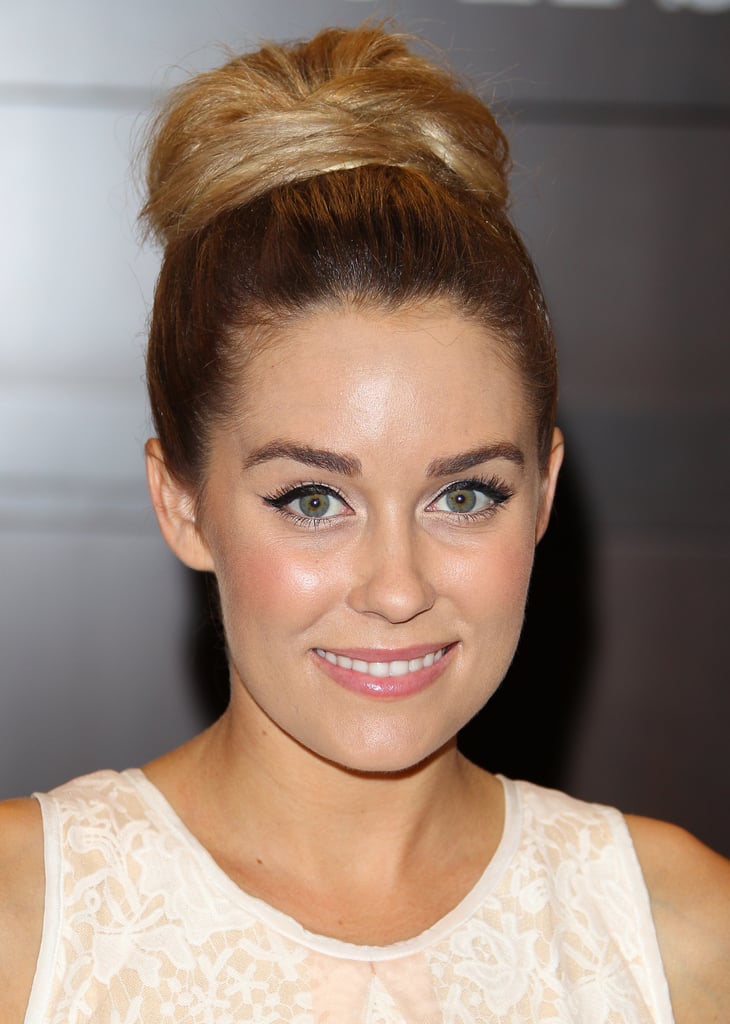 Lauren Conrad [11]'s style is more oversize roll than knot, but it's still an ideal look to keep hair off your neck during the hotter months.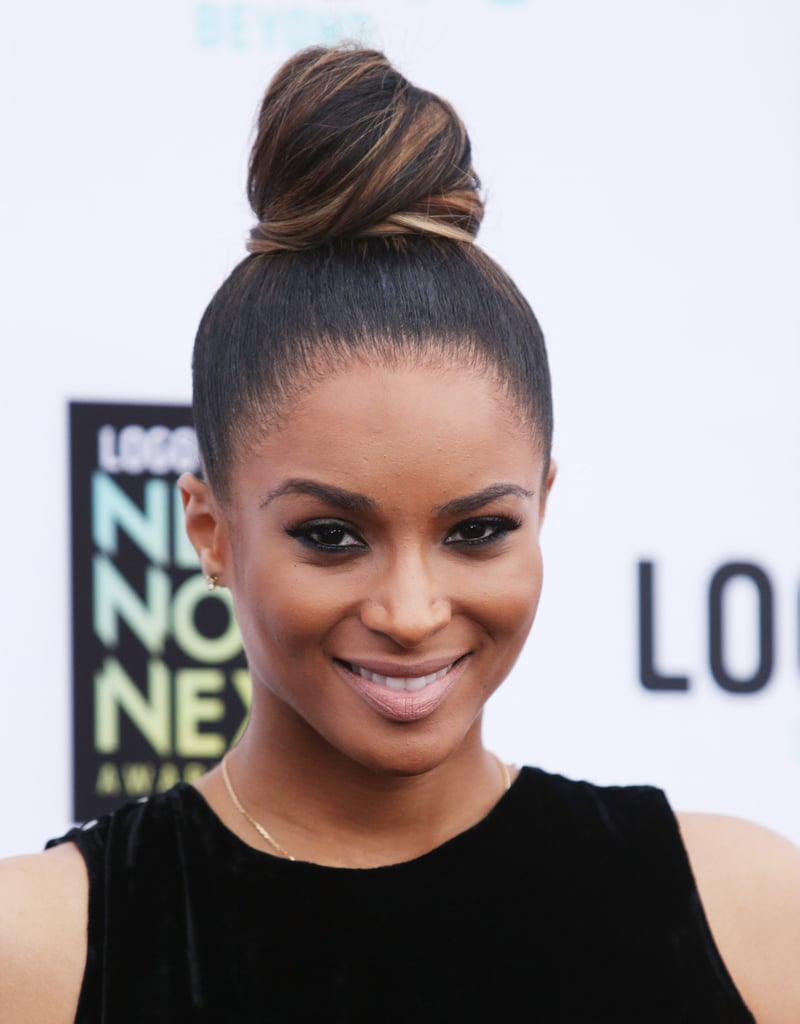 Ciara twisted her hair up into this towering topknot for the NewNowNext Awards.
You'll want to copy Kate Bosworth [12]'s flat and circular topknot with a few pieces hanging just around the ears.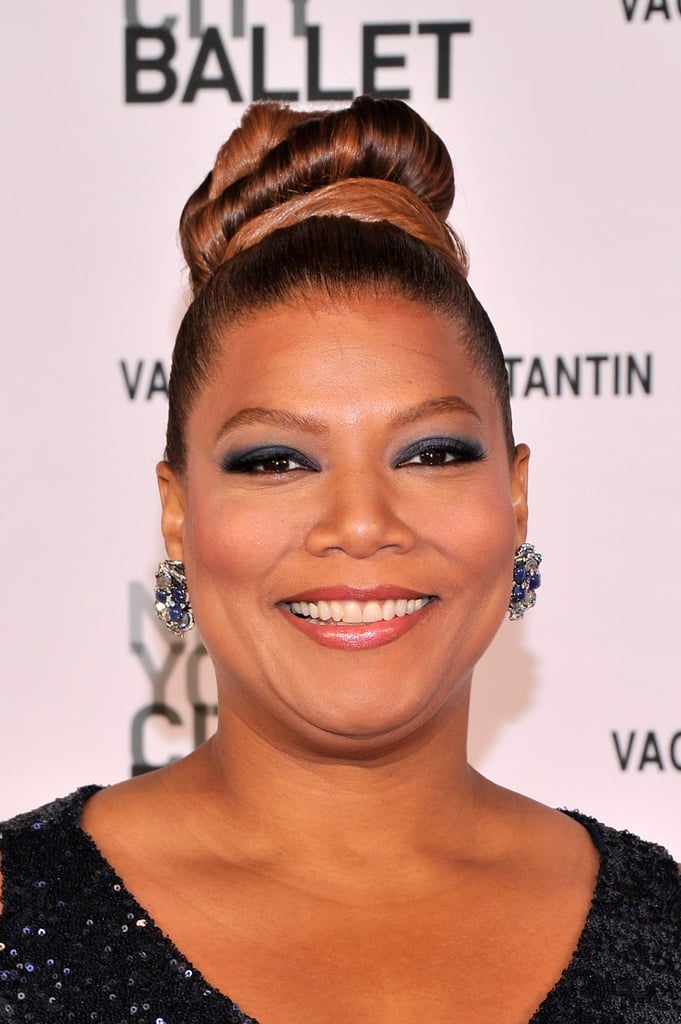 This topknot on Queen Latifah [13] showcased her color job nicely.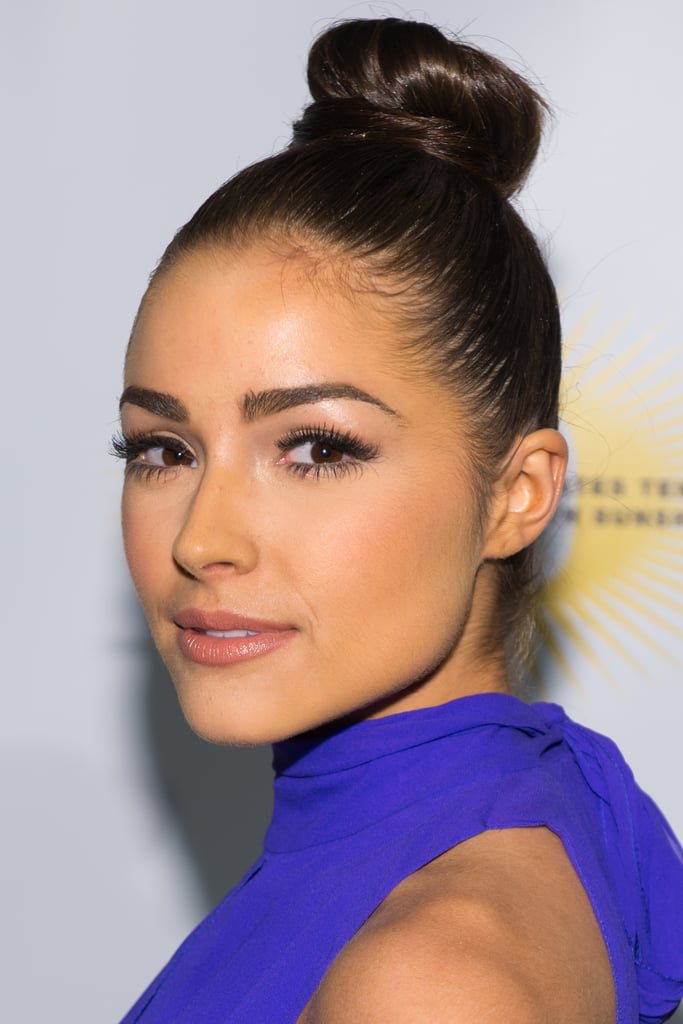 Olivia Culpo added oomph to the average sock bun by incorporating a wraparound piece at the base.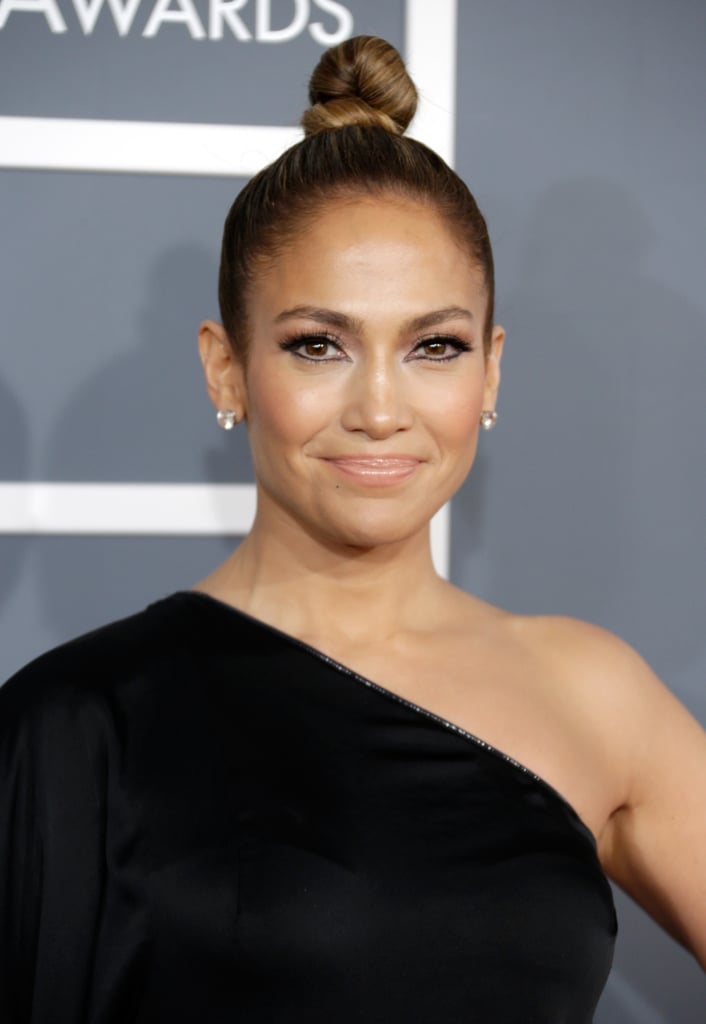 At the Grammy Awards, Jennifer Lopez [14] went for a twisted and twirled topknot that put the focus on her exaggerated eye makeup.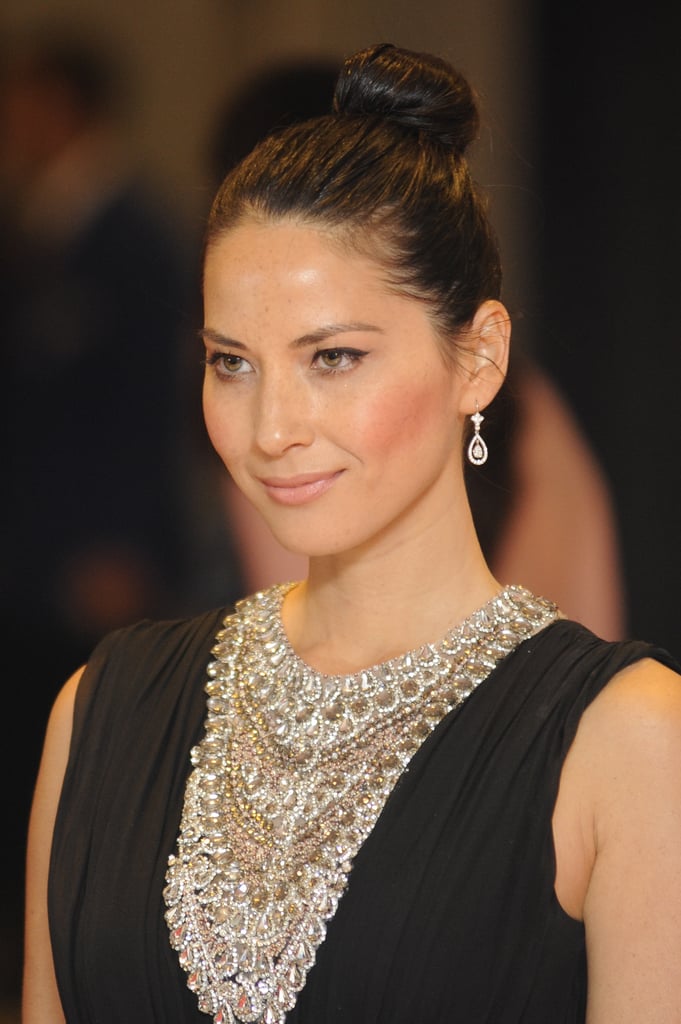 If you're looking to get a more formal style, take your cues from Olivia Munn. The actress slicked back her hair into an easy topknot that's also perfect for poolside lounging.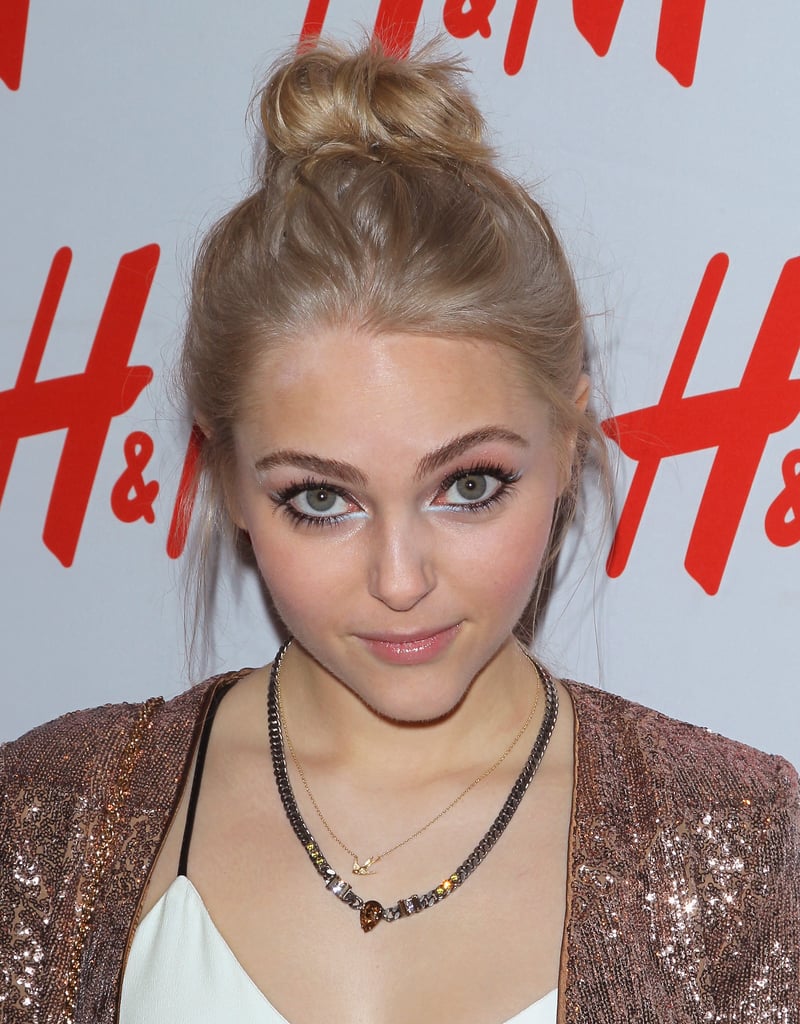 Flyaways are the key to adding extra texture to your style à la AnnaSophia Robb.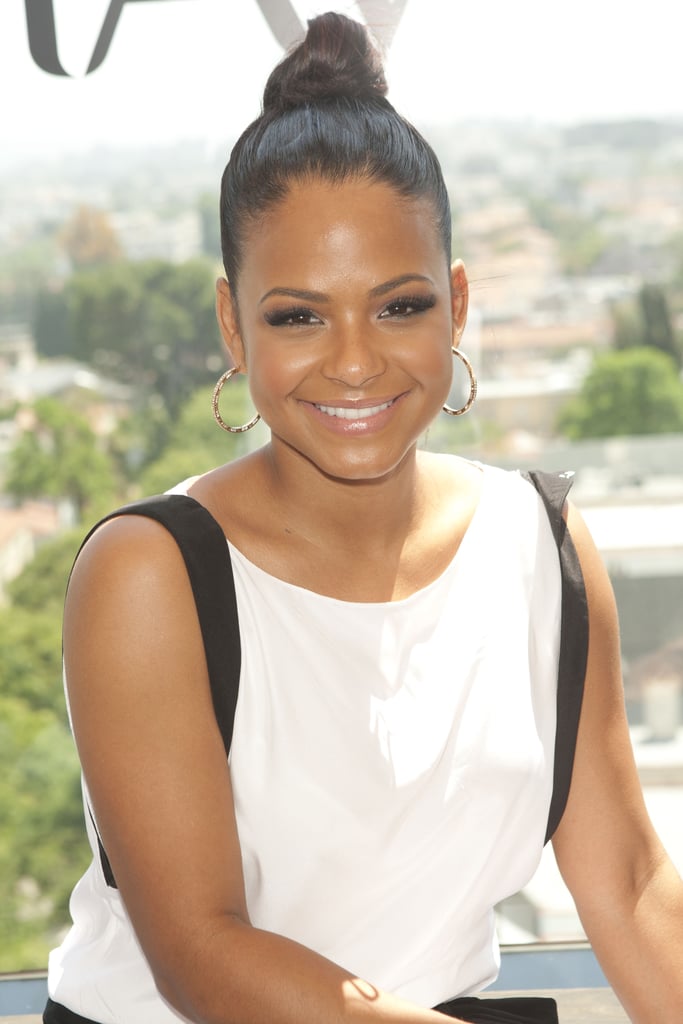 Christina Milian's knot has a few ends sticking out of her bun, creating a cool, breezy effect.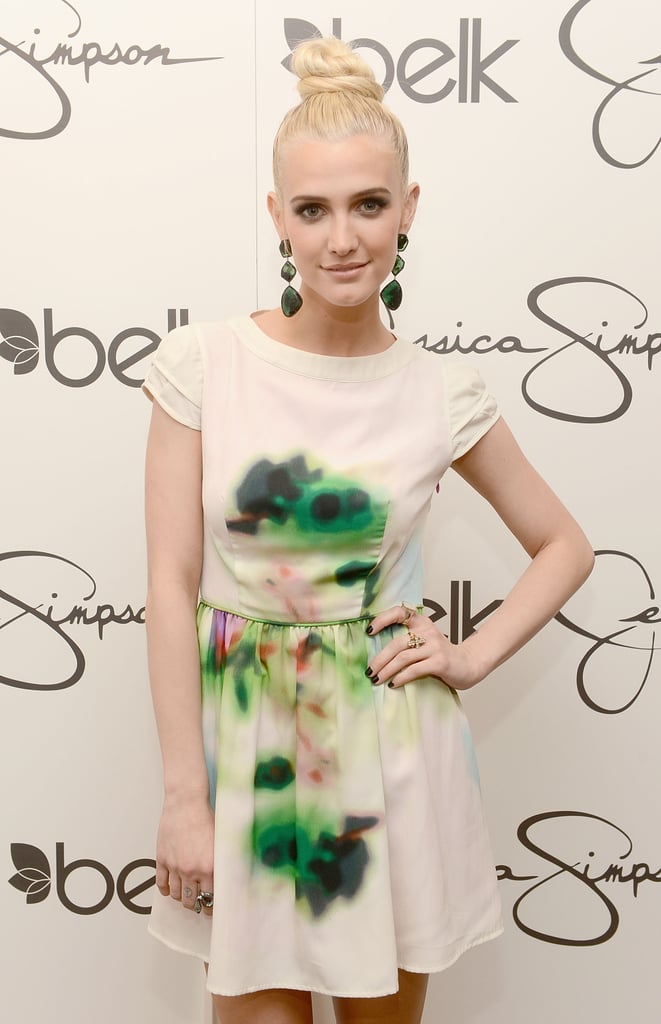 Ashlee Simpson [15]'s topknot had a double-decker effect, with two knots on top of each other.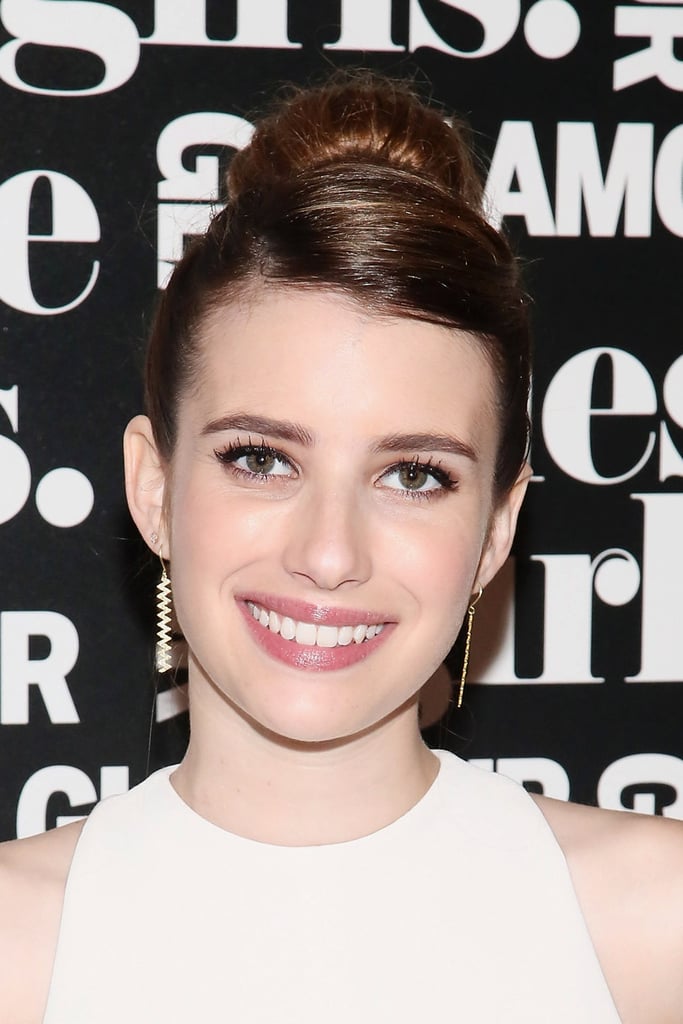 Don't want to let your fringe hang? Take note of Emma Roberts's style and sweep your bangs to the side with a part.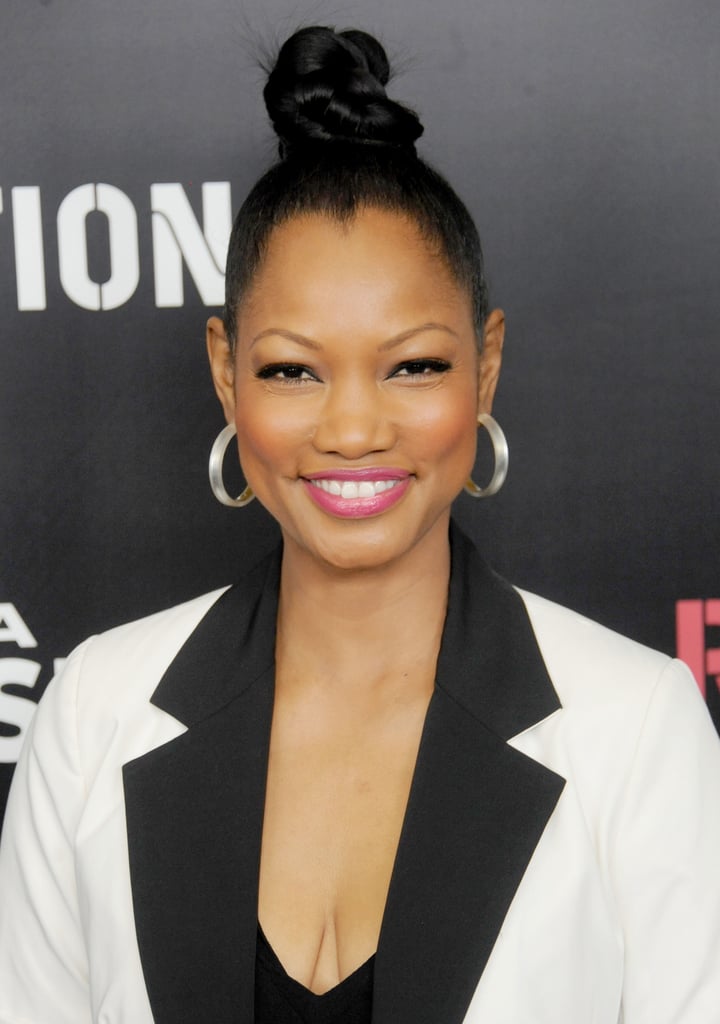 For a similar basket-weave look like Garcelle Beauvais, plait your high ponytail before twisting it into a knot.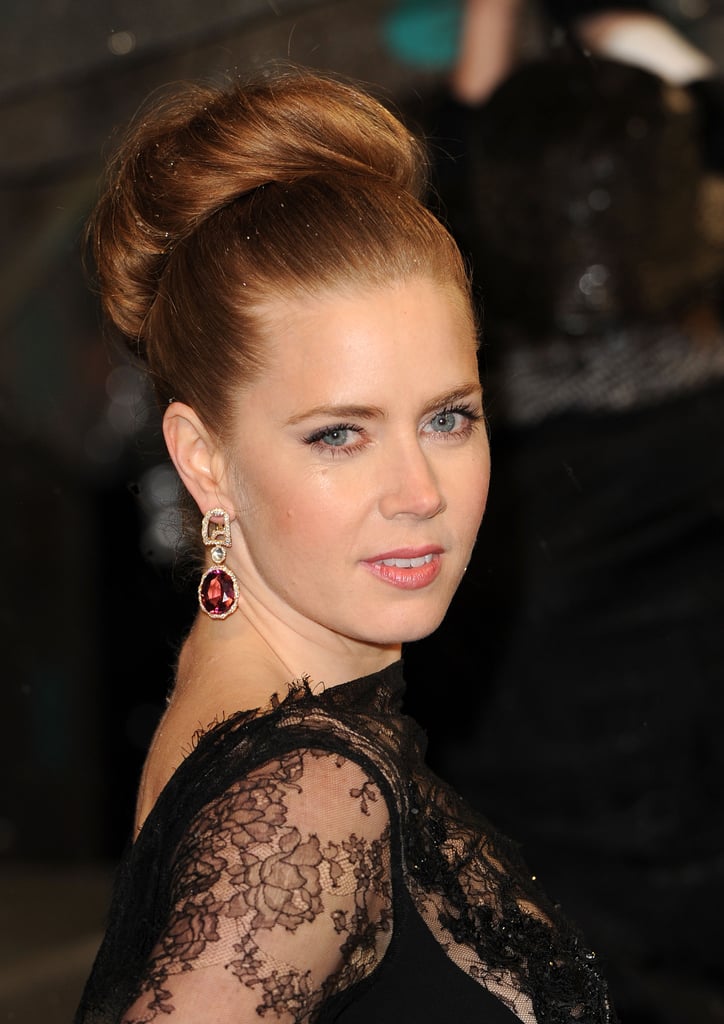 Amy Adams [16]'s big-time topknot is perfect for your most formal events.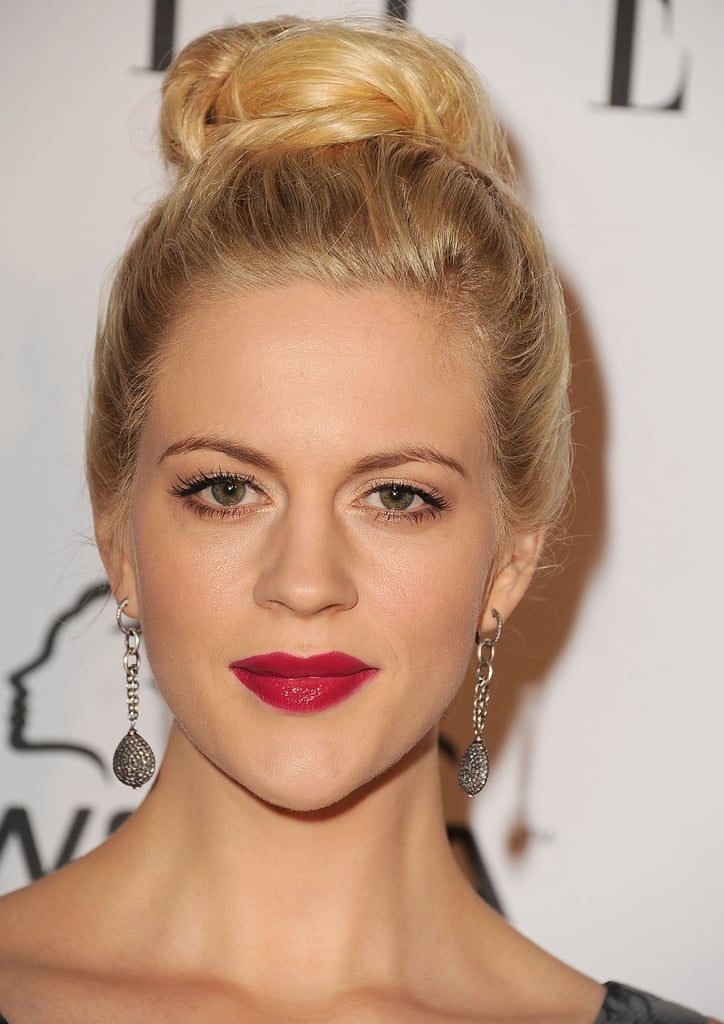 The beauty of the topknot is the casual flair. Georgia King's bun is just messy enough for an evening soiree.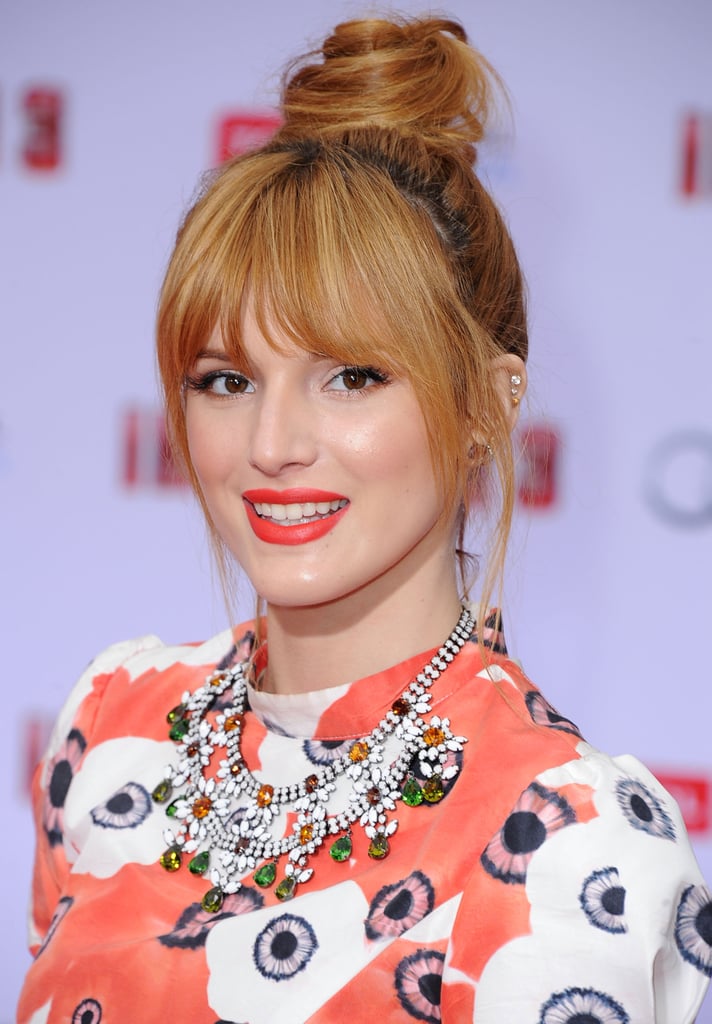 A fiery orange lip hue, just like Bella Thorne's, is the ideal complement to a twisted topknot. Both make a statement and are right on trend for Summer 2013.