Confession: I'm one of those trite, stereotypical girls who is attracted to anything that sparkles. I must have all the shiny things! My life motto? "When in doubt, throw some glitter on it." So it may come as no surprise that, like a moth attracted to the flashiest flame, I was instantly agog in breathless wonderment the moment I saw Topshop's new Chameleon Glow eye shadows.
These shade-shifting shadows are a part of Topshop's Ibiza Grunge Collection for Summer, which nods to the blazing spirit of music festivals for its inspiration. But beyond these hues being admittedly rad for the vibrant festival gal, they reminded me of another kind of being entirely: mermaids! The highly reflective quality calls to mind fish scales and, therefore, have effectively made all my childhood Ariel fantasies come to life (in a more age-appropriate way, of course). Or perhaps the opalescent effect is more similar to butterfly wings. Or maybe an oil slick? In any case, these pigments flash a full prism of colors that's positively mesmerizing. In fact, they're so bewitching that I haven't been able to take my mind off them since I first laid lustful eyes on the trifecta at a press event months and months ago, and I've been hounding the Topshop team for them ever since.
Check out the three duochromatic shades below. (And believe you me that these images do not do the colors justice! They're a product that you have to see in person to truly appreciate.)
Wax + Wane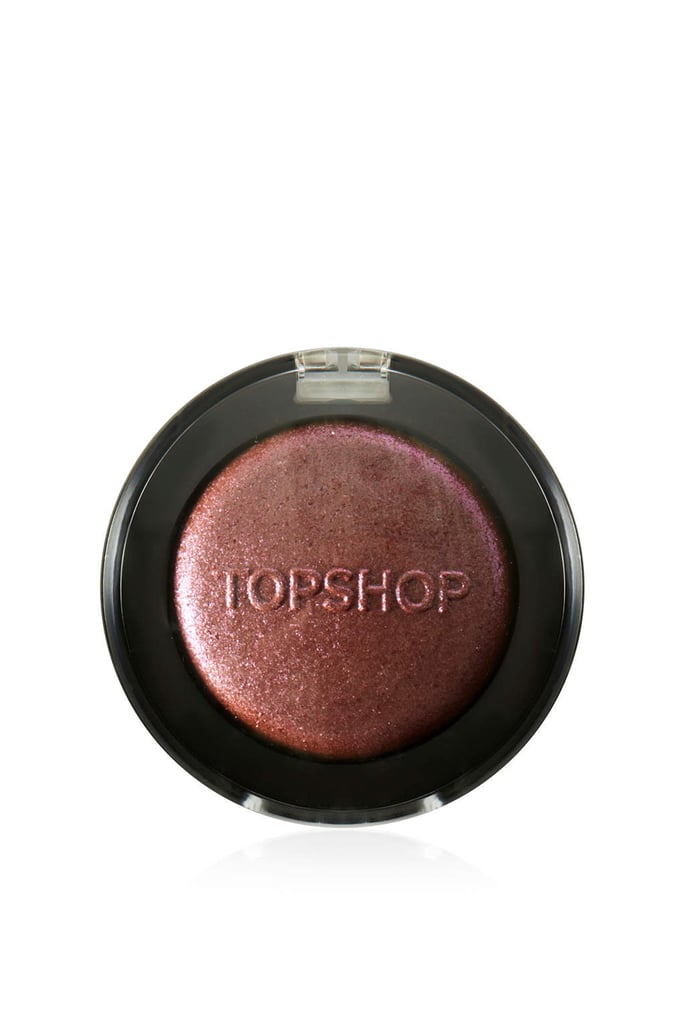 Topshop Chameleon Glow Eye Shadow in Wax + Wane [1] ($16) is an orchid hue that shifts blue. It's similar to MAC Pigment in Pink Pearl, except this one has a more purple base.
U-Turn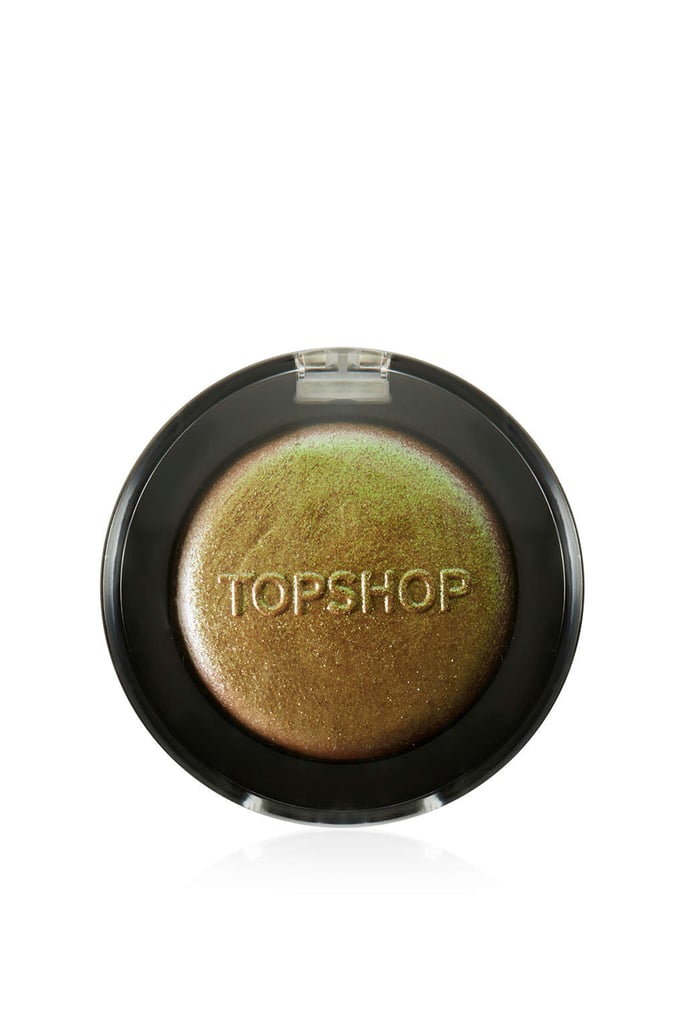 Topshop Chameleon Glow Eye Shadow in U-Turn [2] ($16) is a gold shade that shifts green. It's the most lustrous of the bunch.
Shuffle the Cards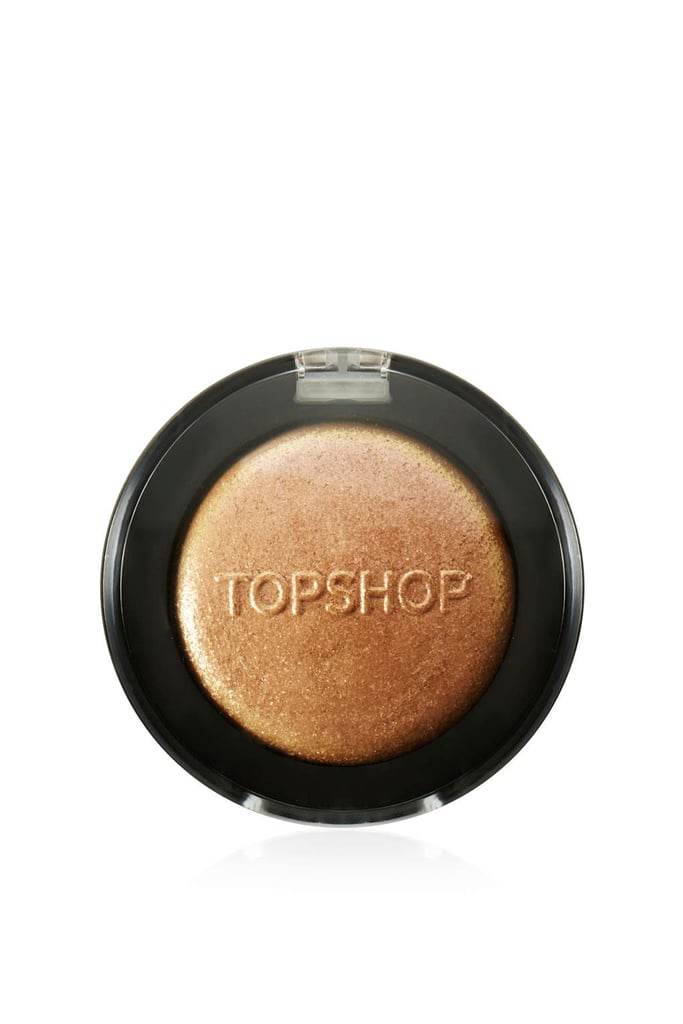 Topshop Chameleon Glow Eye Shadow in Shuffle the Cards [3] ($16) is a melon color that shifts pink. This one also looks stunning as a highlighter along the cheekbones or collarbone.
Swatches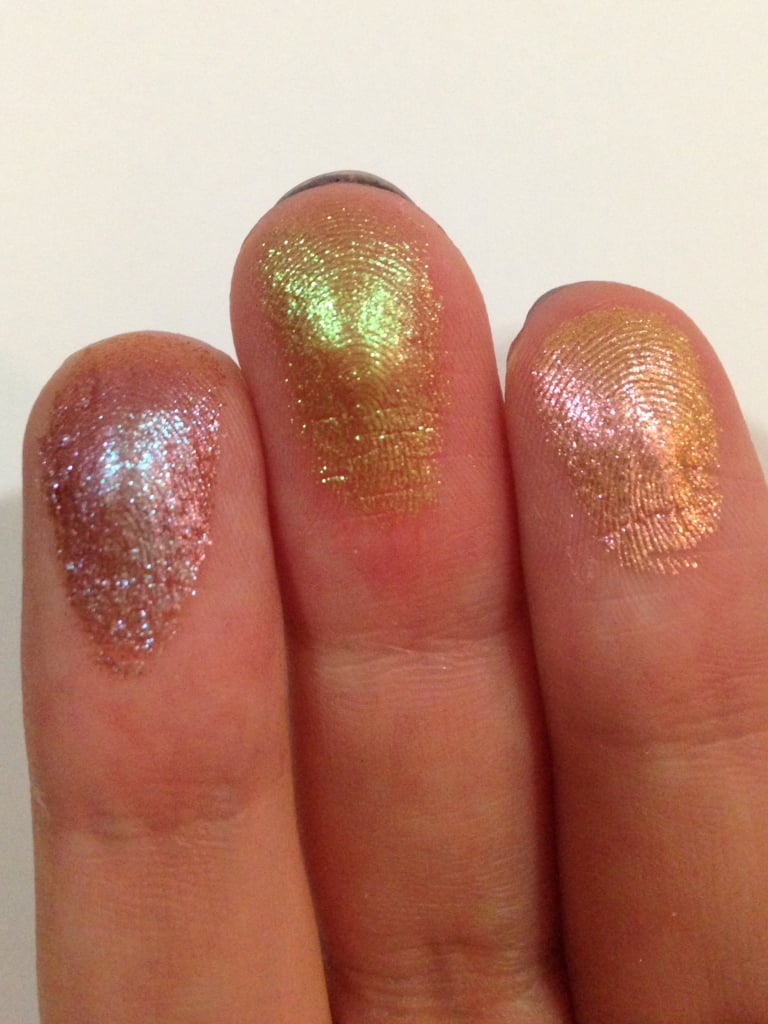 Here, I swatched all three colors to try to better illustrate the pearlescent finishes. Beyond the hues, I was also most impressed by the buttery-smooth texture of these shadows. They're intensely pigmented with just one swipe and not at all chalky. I also appreciated how finely milled the glitzy particles were. Instead of being chunky, these are more shimmery, which I believe makes them more acceptable for those of us who've lived beyond 12th grade. Think "glowing" instead of "dazzling."
Eye Look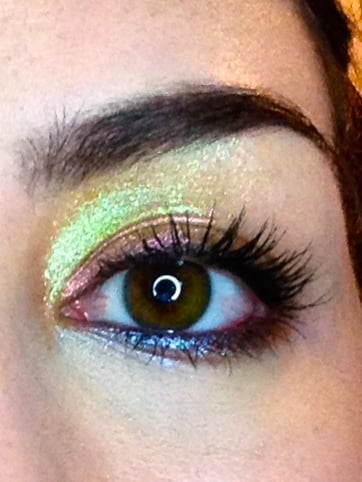 I applied all three shades to my eye to demonstrate what they look like when actually worn. Butterfly wings, non?! It's definitely an evening look, but I think it's totally stunning nonetheless. Here, I placed the melon-pink Shuffle the Cards on the lid, gold-green U-Turn from the inner crease to the inner brow, and orchid-blue Wax + Wane along the lower lash line. I recommend pressing the pigments onto your eye instead of sweeping them across the skin to get a holographic effect that's so shimmery it almost looks glossy.
In reality, I've been sticking to wearing just one shade in my everyday life and have been trying each one out on its own for the past week. The verdict? Friends are grabbing me by the shoulders as soon as they see me to get a closer look at those rays of color near my eyes. They turn my head back and forth to see the shadow bounce in the light then can't stop staring into my baby browns as we chat.
Talk about hypnotizing, indeed! Now if only I can get them to do things at my command. "You're getting sleepy. Veeerry sleepy . . . now go buy me a pack of shiny sequins, please."