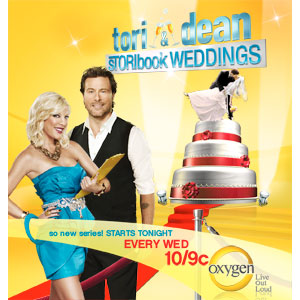 Wedding rings and flowers and vows, oh my! During the last five seasons on Tori & Dean: Home Sweet Hollywood, you've seen a sneak peek at how passionate I am about design, crafts, and party planning, and how committed Dean and I are to making other people happy. But on our new show Tori & Dean: sTORIbook Weddings, you'll see us take everything we've learned to another level! We're talking weddings that are elegant and sophisticated enough for the royals!
Through an eight-episode journey from wedding planning to the big day, Tori will put her party planning and decorating skills to work in order to turn wedding dreams into reality for one lucky couple. Tori and the blushing bride will choose her perfect dress, venue, favors, and flowers while Dean manages all the man business with the groom-to-be. As Tori and Dean know, planning a wedding comes with a ton of emotions, so we'll be helping our couple manage any bumps along the road, keeping everyone focused on what they're doing it all for — true love, of course!
Tune in and watch the story unfold. Oxygen's Tori & Dean: sTORIbook Weddings premieres tonight at 10 EDT/9 CDT!