Triangular Nails For Halloween
Take a Geometric Spin on a Halloween Manicure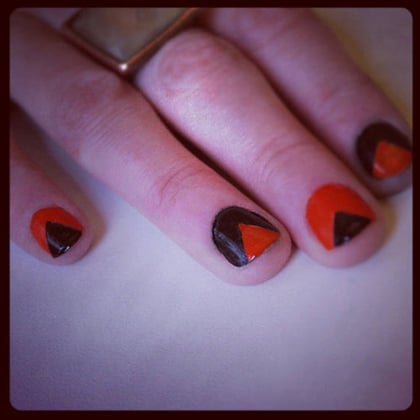 Halloween nail art can range from the cutesy to the outright gruesome. But if neither suit your taste, try this art deco-inspired manicure instead. Featuring classic All Hallows' Eve shades of orange and black, these two-toned nails are as stylish as they are festive. Learn how to re-create them now.
Start by cutting painter's tape into 10 thin strips (about 1/4-inch wide by 1-inch long each). Carefully set them aside. Paint the nails, alternating with black and orange polish.
Once dry, tape your nails off so that the painter's tape wraps around the outer portions of the nails and crisscrosses at the cuticles. The goal is to create a triangular shape at the free edge. Next, paint just the exposed portion of the nail with the opposite polish color. Orange bases will get a black accent, while black bases will get an orange topper. After allowing the polish to dry completely, slowly pull the tape off to reveal nails that are more cool than ghoul.