Troy, MI, Bans Makeup Applications While Driving
Apply Lipstick, Get a Traffic Ticket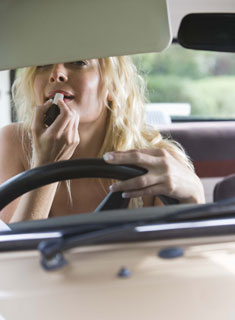 We already know how dangerous it is to drive while distracted, and that's why the city of Troy, MI, isn't going to take it anymore. Starting July 29, drivers in the Detroit suburb will get a ticket if they're caught texting (already a statewide law), voicemailing, dashboard dining, or grooming behind the wheel.
Lots of you admitted that you apply makeup while driving. But sadly, tragic stories of driver distraction provide us all with wake-up calls. Lora Hunt, the Illinois woman who was polishing her nails while driving and therefore struck and killed a motorcyclist, was later found guilty of reckless homicide.
Many cities and states have laws against cell phone usage while driving, but do you expect to see more laws prohibiting primping?