Troy Polamalu of the Pittsburgh Steelers Has Hair Insured For $1 Million
This Football Player's Hair Is Insured For $1 Million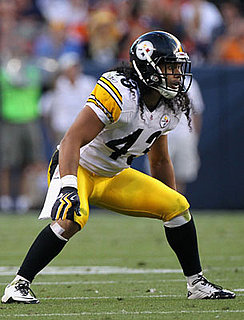 When you're a professional athlete who hasn't had a haircut in eight years, and you're also the current spokesman for Head & Shoulders, what's the next logical step? Getting those famous curly strands insured for $1 million, that's what. "It's like J Lo's insured butt," Troy Polamalu of the Pittsburgh Steelers joked to People of Head & Shoulders taking out a policy on his impressively long ringlets.
Even more impressive is the fact that before each game, he takes 45 minutes to tend to his 35-inch strands. "It's correlated to what a warrior in the past would do to prepare for war," he explains. "In that way you can almost get into the mind-way, preparing for some type of battle when you are doing your hair."
Troy's hair is such a force, it even has its own website. And as expected, he has no plans to cut off his luxurious hair any time soon.