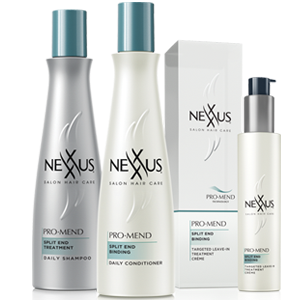 Experiencing those pesky split ends? Nexxus knows that we all get split ends from time to time, but not everyone treats them the same way. Thankfully, Nexxus ProMend products feature a breakthrough technology in hair care that is designed to mend your split ends.
ProMend products zero in on split ends, successfully binding up to 92 percent back together in just one use*! With a robust product line — including ProMend daily shampoo, conditioner, leave-in and overnight treatments, and heat protection styling spray — you will have all the tools you need to pamper your hair back to better health. So for a fresh-cut, noticeably healthier look, try the ProMend products next time you swing by your local drug store, grocer, or mass retailer.
To learn more, visit the Nexxus ProMend site and become a fan of Nexxus on their Facebook page!
*Shampoo, Conditioner, Leave-In Treatment v. Untreated.