Turn Your Shower Into a Spa
Turn Your Shower Into a Miniature Spa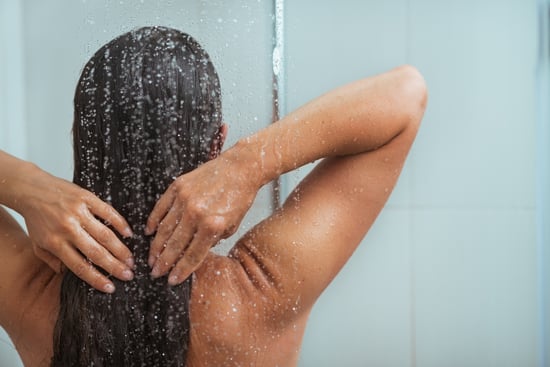 Tubs get all the attention as bathroom relaxation stations. If you live in a small space that's shower-only, though, you can still create a beauty retreat at home. While you might not have the spare change to transform your shower stall into a Vichy palace, there are a few easy additions you can make to promote a spa-like experience. Get your construction-free renovation list when you keep reading.
Ambiance
Lighting: Placing a few candles around the bathroom is an inexpensive way to set the mood for relaxation. Also consider adding dimming lights for a soft glow.
Design: Create a closed off arena for all your beauty treatments by attaching an extra-long shower curtain or heavy drapes that will trap in steam. Hang it from the ceiling, or position your curtain far above the average 70 inches high.
Water: Steam is to the shower as bubbles are to baths. And a quick change of showerhead, like one with a rainfall attachment or something with an extendable arm for maximum pressure, can make a huge difference in your cleansing experience. It's the closest you're going to get the whirlpool jets standing up.
Tunes: Spas are known for their soothing soundtracks, so bring whooshing waters or chirping birds to your spot with a waterproof clock radio. But belting out '80s hits fine, too.
Tools
Dry brush: Before you begin your skin regimen, sweep a brush over dry skin to promote blood flow. Start at your feet and massage upward and inward towards the heart.
Pumice stone: Banish cracked heels by keeping a pumice stone nearby. Wet the stone before scrubbing your soles into submission.
Treatments
Masks: Applying a clay face mask in the shower may prevent it from hardening, so consider putting this treatment on a few minutes before or after you bathe. There are also formulas for your full body that will help you get tight, glowing skin from head to toe. Just apply with a sponge in the shower to avoid a muddy mess.
Scrubs: For an exfoliation treatment to rival any spa, reach for a sugar scrub. Choose brands with cooling peppermint, refreshing citrus notes, or aromatherapy oils. Just remember to cut the stream to conserve water (and money).
Oils: While your skin is still moist postshower, take the time to moisturize with a warm oil. Giving yourself a thorough massage will help release stress and increase circulation.