Turn Your Tub Into a Spa
Convert Your Bathtub Into a Spa-Like Oasis
As POPSUGAR editors, we independently select and write about stuff we love and think you'll like too. POPSUGAR has affiliate and advertising partnerships so we get revenue from sharing this content and from your purchase.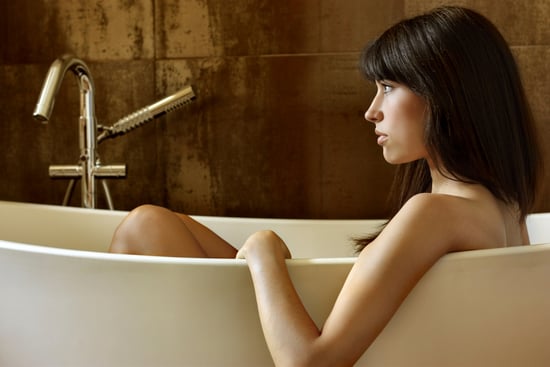 Random beauty fact: today is National Bubble Bath Day. And in honor of such an occasion, you deserve an all-out soak in the tub. All it takes is a few extra steps to make it even more relaxing, pampering, and restorative to your senses. Get construction-free tips to turning your bath into a miniature resort when you keep reading.
Ambiance
Lighting: While candles elicit the ultimate relaxation mood, melting wax and flames can be dangerous tub side, especially if shower curtains or towels are hanging nearby. If you're looking to put them on the ledge of the bath, opt for fire-free versions instead.
Fabrics: The best part about going to the spa is the fluffy oversize bath mats towels, robes, and slippers. Upgrade your bathroom decor with resort-style white accessories.
Plants and flowers: Nothing promotes a calm environment more than nature. Bring the outside in with a scattering of bamboo, aloe vera, or African violets. Besides, you'll never forget to water them.
High tide: To get a truly luxurious soak, you want the water level to get as high as possible. Use a product like Better Bath Deep Water Bath ($11) to stop up the safety drain under the faucet. Just be sure you don't step away while drawing your bath, else you could have a slippery situation.
Tools: Planning to be in the tub for a while? Lay back and relax with a bath pillow. You might even consider splurging on a bath caddy to place your wine and light reading.
Jets: Modern technology has brought jets to even the most basic bathtubs. Try the Portable Turbo Spa ($42) to add a gentle swirling massage to your soak.
Add-Ins
Oils: Turn your tub into an aromatherapy oasis with the addition of a sweet-smelling oil. Some favorites for relaxation include lavender and rose.
Salts: Get the skin-softening benefits of a mineral bath with several scoops of sea salts.
Milk: Adding a milk soak and honey to your bathwater multiplies the moisturizing effects. Legend has it that Cleopatra did it and so should you.
Bubbles: Whether it's bath fizzies or traditional bubble bath, there's no denying the sheer delight bubbles can bring.