If Tyra Banks [1] was the first supermodel you'd ever heard of as a kid, you're not alone. It's hard not to be in awe of her striking beauty (she's kind of a supermodel god). Her claim to fame grew as her dynamic personality got to sparkle on America's Next Top Model. And who doesn't use her smize technique when posing for photos? Now that Tyra's launched a beauty line, it's OK to call yourself a megafan for life. The eponymous brand [2] is the epitome of fierce (would you expect anything less?) and consists of 14 products — everything you need to look like a model. The expert products include contouring tools, highlighting sticks, and lip glosses that double as lipsticks.
Tyra recently announced to WWD [3] that she would now be entering the direct-selling market with her line, giving Avon and Mary Kay some competition. Instead of going through a rigorous audition like you would for ANTM, you can pay a $59 fee to enroll in an online course called TYRA-U [4]. There, you'll get the proper training to become an ambassador, or Beautytainer.
Since she taught us how to smize, we asked Tyra about her favorite tips for making a selfie sizzle, her fantasy makeovers, and what she's learned about beauty over the years. Read on to learn how to beautify like one of the biggest names in the biz!
What are your favorite products in the line?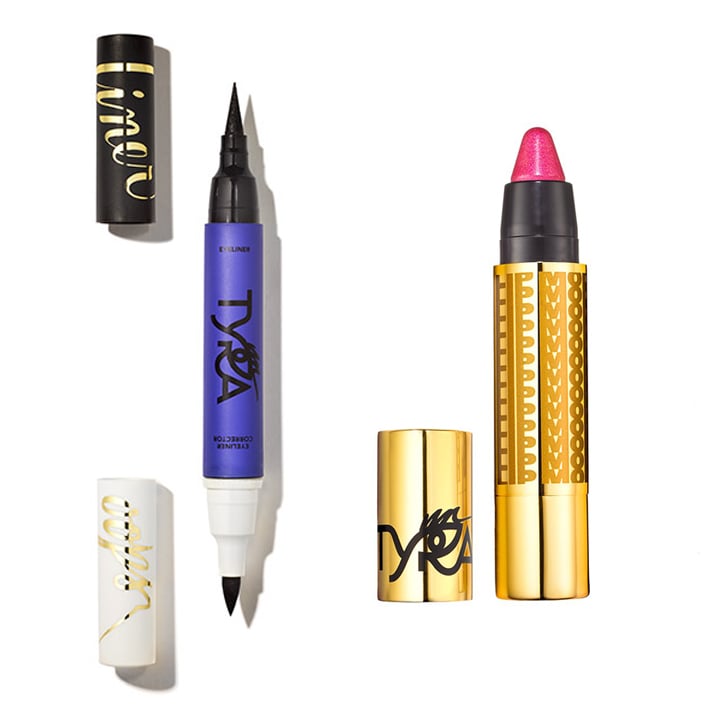 "One is Oops Liner [5] ($26). I wanted to take intimidation out of using makeup with my entire line, so I focused on one of my insecurities. I do my own makeup for fashion shows and red carpet events, and before I created Oops Liner, I would always skip liquid liner on my upper eyelids because I couldn't get the lines to be even. One would be thicker than the other, one of the wing tips would be kind of fat and not pointed. That's why one side of Oops Liner is a felt-tipped liquid eyeliner and then the other side is eyeliner corrector, so you can fix your mistakes or sharpen that wing tip — it gives you so much power.
I also love Lip Model because it gives you that runway-ready, supersparkly lip color. The color What It Takes [6] ($24) is inspired by something that I do on Instagram. I post pictures of people who are not professional models — they might not be tall, they might not have that typical model body that a lot of the industry says that you have to have — but I see something special in them, so I will post them on my Instagram feed saying that they have what it takes."
What are your tips to looking like a model on Instagram? "People really respond to color. I know that if I post something with muted tones, it gets a certain number of likes. But if I post something when I have on a lip color or if I have on a colorful top, it gets a lot more likes. I recommend wearing Lip Model in 'What It Takes' because it is a strong, purplish-pink with high, high glitter content."
What about filters? Do you have any lighting tips? "I would go with filters that accentuate color and give you a strong contrast. I tend to use Mayfair. It gives you intense color saturation. Also, the light is your friend. Always be facing the light. Do not have light behind you or you will be in silhouette. And, try to go to an area where light is not shining straight down on your face — go into a hallway where the light is at the end, and face that. It's important not to have light coming from above or from the back."
How do you hold the camera when you take a selfie? "I am not a big fan of letting people be able to see my stretched-out arm. I like to stretch my arm out, then bend my elbow so you can't see the arm. I try to pose so it looks like a photographer took it as opposed to a selfie. It takes away the self-centered 'me, me, me!' feeling of an obvious selfie. [My way] makes it look more like, 'Oh, there is totally a photographer there.' The photographer is Tyra Banks [7], but we don't need to know that!"
What product do you want to launch next? "I think we need eyebrows in a stick, concealer in a stick, and foundation in a stick to take the face to the next level. I really want to make sure that women of all colors can feel beautiful coming to Tyra Beauty, not feeling like I don't have their color. We are developing formulations right now."
If you oversleep and have to do your makeup on the train, what would you use? "I would probably do What Lipstick? [8] ($28) and Smack My Fat Lash [9] ($28) to put a tint on my lips and lashes. Then I would throw on some earrings and be good to go. If you don't have time to do all your makeup, earrings bring dazzle and sparkle to your face."
If you could give anyone a makeover with your products, who would it be and what would you use?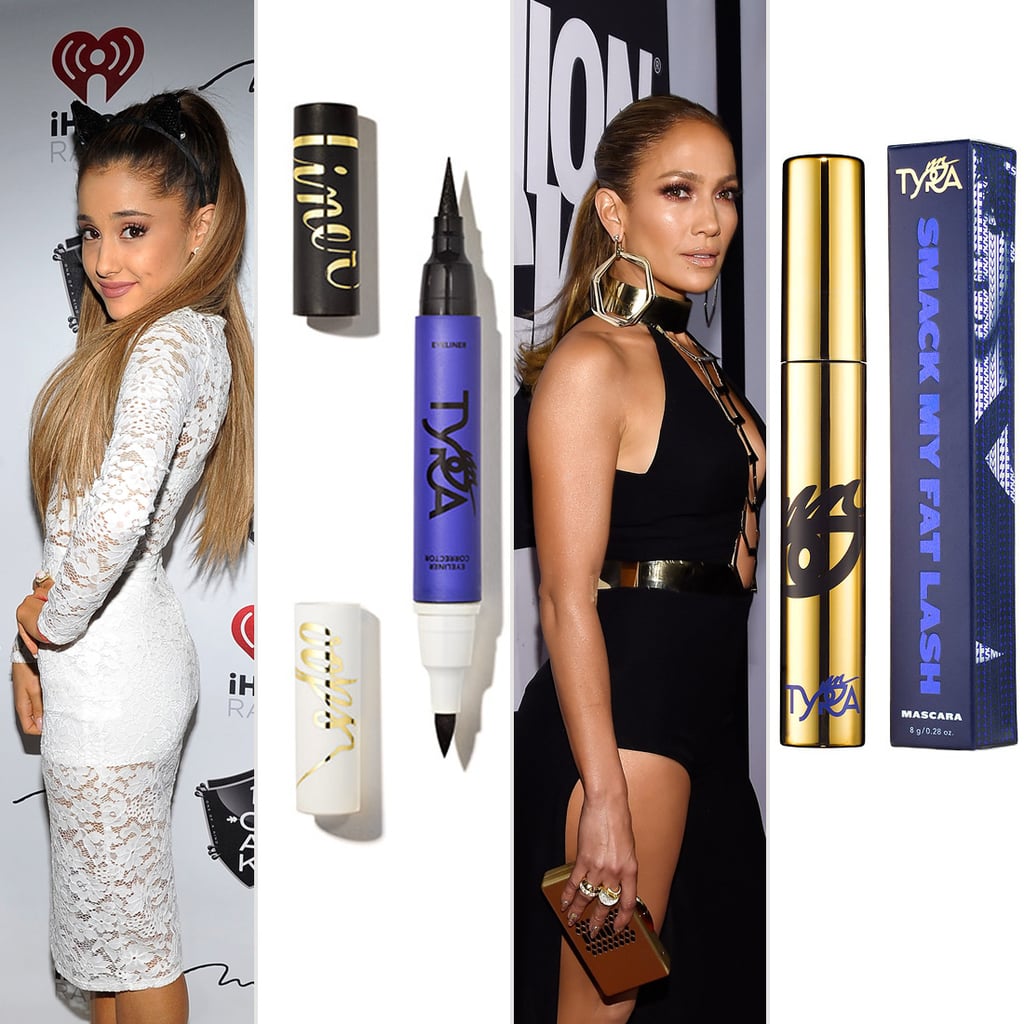 "Oh Lordy! Ariana Grande [10]. I am all about branding, and I think she has done a great job with something really, really simple — the high ponytail. And what looks good with a high ponytail is some cat-winged liner. So I would definitely be doing some Oops Liner [11] on her — imagine that sharp eyeliner with a tight ponytail — and Ariana can add a little bit of extra weave to make that ponytail go all the way down to the booty.
The formula of my volumizing/lengthening mascara made me think of thicker, longer, bigger. When tabloids said I was fat and called me Tyra Shanks, I told the world to kiss my fat ass. I am all about taking the power back, so I named the mascara Smack My Fat Lash [12] ($28). I would use it on J Lo, because she has a beautiful fat ass that everybody knows, and there's a song out right now all about it."
What beauty techniques have you been using since the start of your career? "I am obsessed with contouring. When I was a very young model, I didn't have any type of cheekbone definition — even to this day, I have to draw them on. I would look at Christy Turlington and be like, 'Oh my gosh, Mom! I wish I had Christy Turlington's cheekbones.' My mom would say, 'Why do you need her cheekbones? Just draw them on.' That taught me that you don't have to covet over what people have — try to create it yourself or find something about yourself that you can highlight. I wasn't born with her cheekbones, so I just drew them on! That's why I created Sculpt in a Stick [13] ($24) — I always wanted Christy Turlington's cheekbones. You can literally just draw them on and add them in."
When I was younger, I loved your book Tyra's Beauty Inside & Out. How has your beauty philosophy changed since then? "It's very similar. I really do believe that makeup has a lot of power to transform, and I felt the same back then. I just have so much more knowledge now about makeup, about self-esteem, how it is easy to throw on a lip and feel better about yourself temporarily while it takes a lot longer to fix things on the inside."