Ulta No Makeup Model Looks Photoshopped
Do You Believe She's Makeup-Free?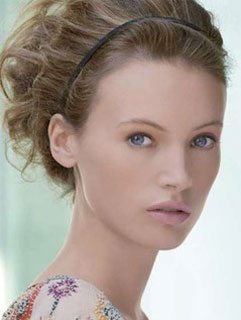 Ulta's new ad campaign is raising eyebrows — and not in the way you might think. It features model Mona Johannesson, who, the brand says, is totally without makeup.
Maybe she isn't wearing any makeup, but her poreless complexion definitely doesn't look the way bare human skin usually does. There's no word on whether the photo was retouched — as most are — so perhaps Photoshop is responsible for the perfection. To me, it looks like her undereye area was smoothed so that her lower sockets aren't visible, and there are no lines on her neck from turning her head. In these other photos, the same model has more "flaws" despite wearing makeup.
Which begs the question: does it matter if someone is makeup-free if she may have been Photoshopped? Where do you stand on this one?
Update: It all makes more sense now! The photo included in the WWD story is the "after" shot, but the accompanying story says the model is "without a stitch of makeup." This ad, not the "before" that's on Ulta's site, is what's shown. Sorry for the confusion!